• Oil & Gas,Pipeline
Satelytics: An Amazing New Way to Monitor Methane Leaks
Satelytics has developed a system for monitoring methane leaks that is an innovative use for satellite remote sensing tools.
Précis
Problem: Dangerous and costly methane leaks.
Solution: Find leaks with Satelytics.

Benefit: Lessens consequences and expenses.

Methane leaks are a very expensive and serious environmental problem. Not only do they represent lost product when gas leaks out into the atmosphere — but as we've witnessed time and again — leaks can lead to explosions that kill and injure humans unlucky enough to be nearby. These incidents are so expensive that, in the months following Anadarko's (NYSE: APC) fateful explosion in April 2017, the company reported losses in excess of $415 million. Anadarko attributed much of that loss to the Weld County, Colorado blast that took two lives. Legal experts estimate the Aliso Canyon, California leak that began in 2016 will cost SoCal Gas (NYSE:SRE) in excess of $1 billion. PG&E (NYSE:PCG) is facing $2 billion in penalties from its tragic 2010 San Bruno, California natural gas pipeline explosion that took eight lives and injured many more.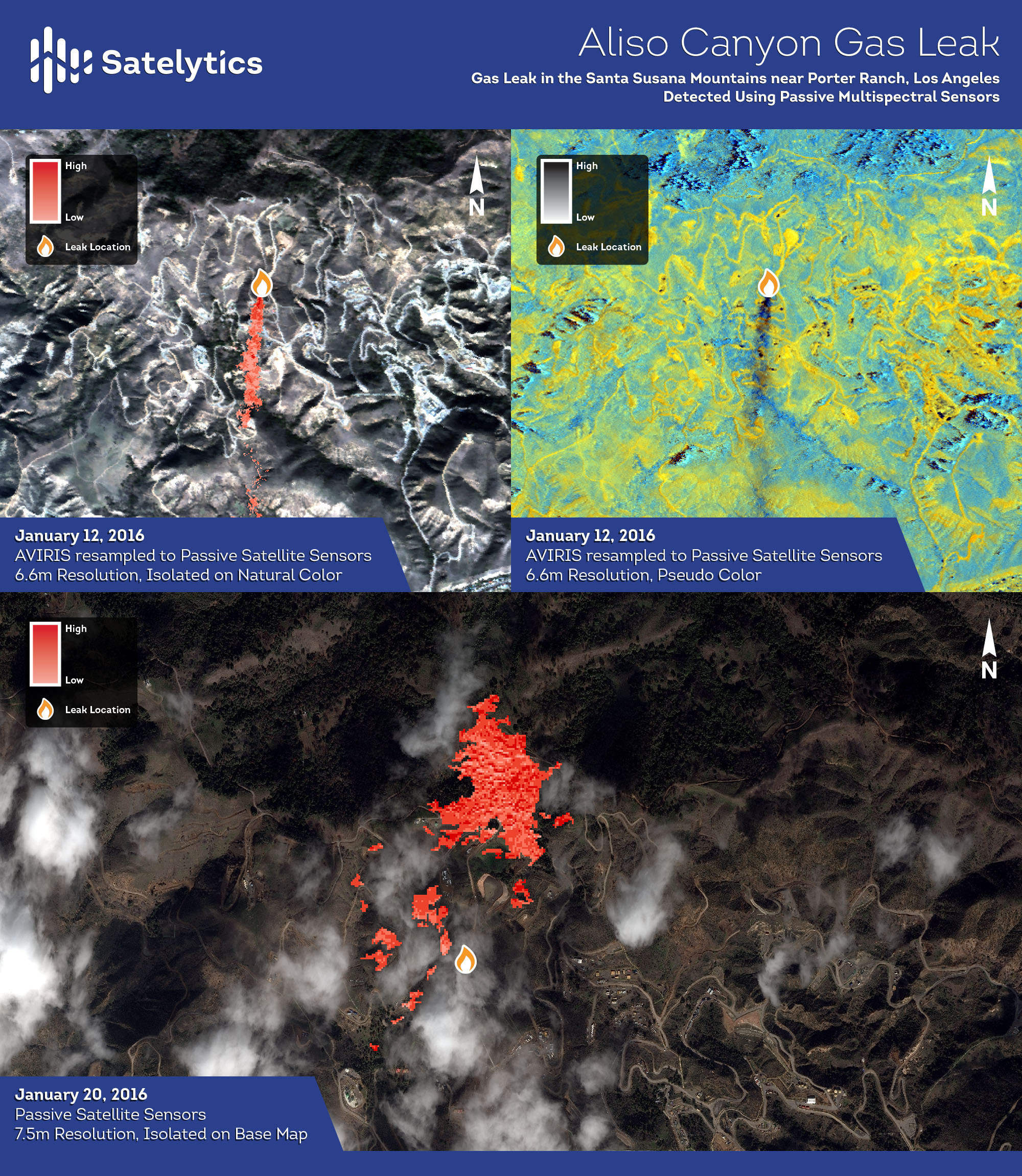 In 2014, NASA researchers discovered a huge methane cloud above the San Juan basin in the southwestern United States. Attributed to gas, coal, and coal bed mining and processing, this plume is estimated to emit nearly 600,000 metric tons of methane every year. Oil & gas operations have been major contributors to the unnecessary release of methane for well over a century.
So, it just makes good sense to keep the gas where it belongs, in the pipeline or in a secure storage facility. And when it begins to leak, let us tell you where you need to go to fix it. The cost to monitor and repair a problem is far less than the $3,415,000,000 that those three gas companies alone paid over the last 8 years; and their costs will continue to mount for decades to come.
Satelytics software is run by AI and machine learning-powered algorithms that processes satellite data and extracts indicators of problems — whatever you're looking for — methane leaks, hydrocarbon leaks, vegetation health, water quality, changes related to rights-of-way safety, and more. Then the software alerts you via text, email, or both. We show you critical data: the problem and its location; then you as the manager or first responder decide what the next action is to minimize consequences.
Interested in our newsletter?