• Oil & Gas,Power Utilities,Water & Wastewater,Pipeline
Change Isn't Always Obvious
Satelytics uses science to help you see what's really going on.
Précis
Problem: Changes going undetected.
Solution: Change detection catches what's missed.

Benefit: Receive alerts other systems miss.

Satelytics is a software as a service (SaaS) tool that helps companies like yours monitor your assets and alert you to potential threats. You need to know about important and impactful changes, and those are often located by scientific data, not simply a pretty picture. Activity-based intelligence and knowledge of third-party damage will automatically be delivered to your choice of platform: computer, tablet, and smartphone. You will have greater control over environmental impact, reduce costs, mitigate risk, and you will be able to allocate resources more effectively.

What's going on with your infrastructure? The images below are screen shots of our software interface that show issued alerts picked up with our change detection algorithms.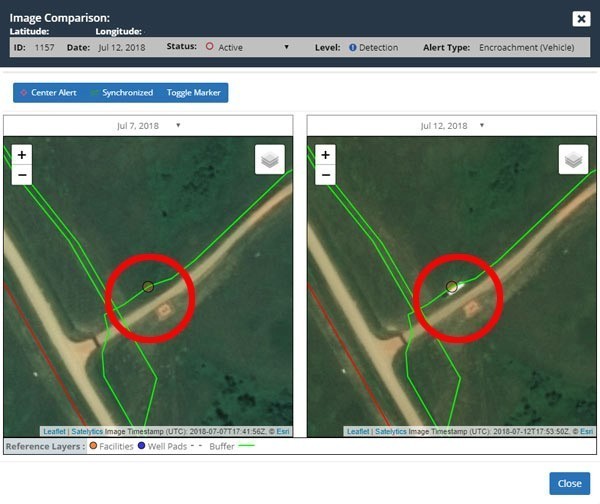 Satelytics' science synthesizes huge amounts of data into web-accessible dashboards, actionable alerts, and rich visualizations via a powerful API. We can help you locate and analyze:

Hydrocarbon leaks
Infrastructure threats
Water quality and produced water issues
Biological and chemical constituents on both land and water
Change events
Vegetation health, and much more.
We provide extraordinary solutions to your toughest business challenges. The company uses its cutting-edge technology to solve critical business challenges over many industries. Using multispectral and hyperspectral data and proprietary algorithms, Satelytics offers unparalleled opportunities to use remote sensing and machine learning innovation in the business world. Satelytics has twelve issued remote sensing algorithm patents and products, as well as a client list featuring some of the largest energy, utility, and environmental consultancy companies in the world.

Your industry is about big data. Using high resolution spectral imagery from satellites, drones, nano and micro satellites, planes, and fixed cameras, we can access remotely collected data over the majority of the planet's surface. Our expertise is distilling that big data down into critical action points and easily digestible data visualizations for our customers. We solve for you.
Contact us for a demo today!

Interested in our newsletter?