• Oil & Gas,Pipeline
INGAA Workshop Offers Valuable Industry Insight
We truly enjoyed being invited to the Interstate Natural Gas Association of America (INGAA) summer workshop, "Enhancing Safety and ROW Inspections," sponsored by Enview. The images captured by Emily Jane Steinberg are powerful, and we wanted to share them with you. A special thank-you to Tom Hutchins of Kinder-Morgan for the referral and Krassimir Piperkov of Enview for including iPIPE and Satelytics.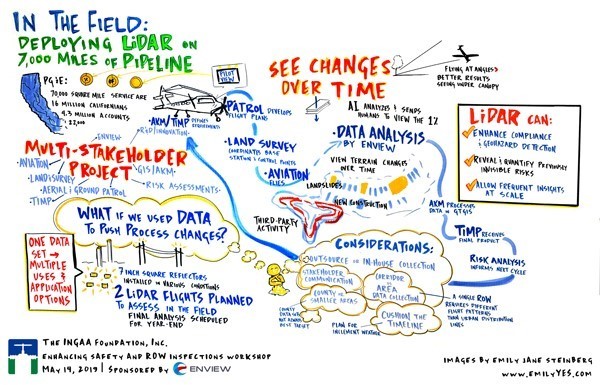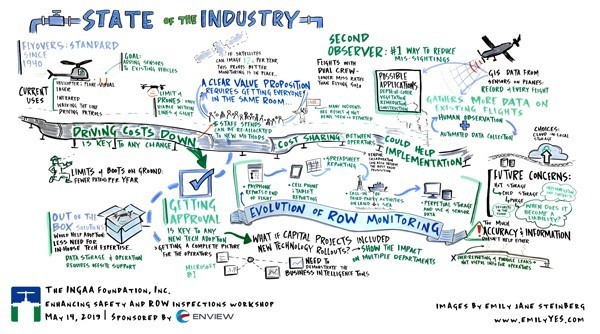 Jay Almlie, of the iPIPE consortium, presented case studies learned in the summer of 2018 that addressed continued efforts at pipeline safety. The project is publicly and privately funded at an overall cost of $4 million. Current iPIPE consortium partners include Andeavor, Hess Corporation, Equinor (formerly Statoil), Goodnight Midstream, Oasis Midstream Partners, ONEOK, Whiting, and DCP Midstream. iPIPE is adding new partners, as many in the industry see this concept as a "win-win" to develop safety and cost-saving strategies. Contact Jay Almlie for more information.
Images produced by facilitator/artist Emily Jane Steinberg of delineate ink, llc. Reproduced courtesy of Enview, INGAA workshop sponsor.  
Emily Jane Steinberg can be reached through her website. 
Interested in our newsletter?