• Oil & Gas,Pipeline
TC Energy, Canadian Province of Alberta, Team Up to Build Keystone XL Pipeline
Toledo, OH – April 6, 2020 – The Wall Street Journal reported on March 31 that TC Energy and the Canadian province of Alberta have agreed upon a deal to jointly finance the construction of the Keystone XL Pipeline. The agreement includes equity input from Alberta, as well as credit guarantees to TC Energy. TC Energy will also be putting up cash of its own to cover the $8 billion price tag for the project. The company has 20-year agreements in place to carry crude down to Steele City and on to terminals in Cushing and Patoka. Alberta is home to the oil sands-producing basin, and is looking to continue development and production of this strategic energy source.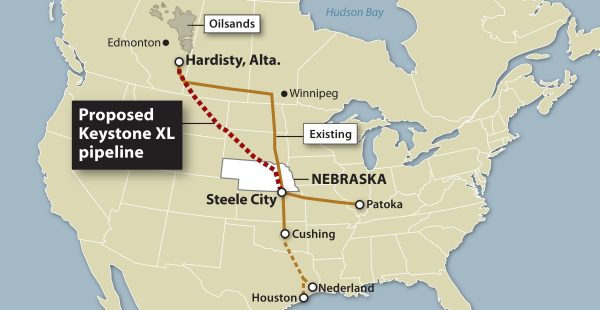 Satelytics is working with TC Energy, a new member of the iPIPE partnership, monitoring its pipelines in North Dakota with our Constant Vigilance™ software suite. Satelyics processes aerial imagery, in this case from Airbus' Pléiades satellite constellation, and sends out alerts to affected infrastructure owners as threats are observed. TC Energy is committed to bringing crude safely to refineries on the coast, and to continued growth and employment for its employees in the United States and Canada. Russ Girling, CEO of TC, said construction is, "poised to put thousands of people to work, generate substantial economic benefits, and strengthen the continent's energy security." The announcement is a spot of good news amidst the gloom in our economy due to low oil prices and pressures from the coronavirus pandemic. Alberta Premier Jason Kenny said, "We cannot wait for the end of the pandemic and global recession to act, we are confident that this is a wise investment."
Satelytics Inc., www.satelytics.com, is a cloud-based geospatial analytics software suite. Multispectral and hyperspectral imagery is gathered from satellites, UAV, planes, and fixed cameras, and processed to provide both alerts and qualitative results for our customers. Data can be gathered up to a daily basis, and results are sent to customers within hours. This includes the specific problem, location, magnitude, and even qualitative information, which minimizes cost, impact, and operational disruption for our clients.
For more information, contact David Dunham, ddunham@satelytics.com, (o) (419) 728 0060 extension #101, (c) (701) 213 0294.
Interested in our newsletter?