• Oil & Gas,Pipeline,General
U.S. Oil Production Sets New Output Record in 2019
Toledo, OH – March 2, 2020 – Year-long results published by the Energy Information Administration (EIA) showed crude oil production reached a new record output level of 12.23 million bpd, a growth of 11% over 2018. Texas accounts for nearly 41% of national output, with the heavy development being seen in the Permian Basin the past few years. Texas is followed by Gulf of Mexico, North Dakota, and New Mexico crude production — all of which set annual records in 2019. Interestingly, the New Mexico portion of the Permian saw 36% growth, which is quietly turning that state into a major player in the U.S. energy industry.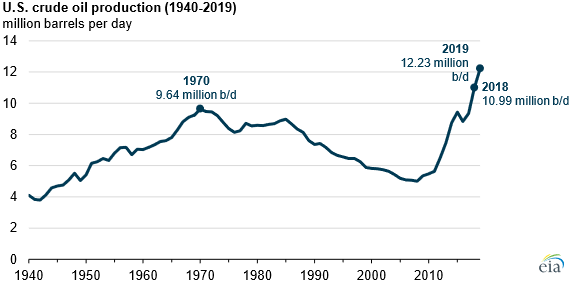 U.S. Oil Production

Satelytics is proud to work with oil & gas production companies in the Permian and Bakken Basins, doing weekly monitoring for oil and produced water leaks, right-of-way monitoring, vegetation monitoring, and change detection. Satelytics' Constant Vigilance technology can monitor your company's assets and differentiate between hydrocarbon and produced water spills. Alerts associated with these incidents are available to customers in a matter of hours after images are captured. Satelytics' software can process spectral data from any platform, using its robust pre-processing framework that has been built by world-class artificial intelligence scientists and programmers. All of the above is done without any human interaction, which minimizes the workload on your company's biggest assets: your employees.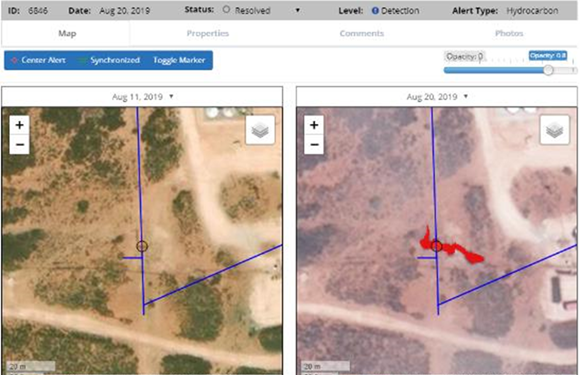 Hydrocarbon leak alert.

Satelytics Inc., www.satelytics.com, is a cloud-based geospatial analytics software suite. Multispectral and hyperspectral imagery is gathered from satellites, UAV, planes, and fixed cameras, and processed to provide both alerts and qualitative results for our customers. Data can be gathered up to a daily basis, and results are sent to customers within hours. This includes the specific problem, location, magnitude, and even qualitative information, which minimize cost, impact, and operational disruption for our clients.
For more information, contact David Dunham, ddunham@satelytics.com, (o) (419) 728 0060 extension #101, (c) (701) 213 0294.
Interested in our newsletter?