• Oil & Gas,Pipeline,General
46-7-1: Is That Tommy Tutone? Or a Secret Combination?
Satelytics continues detecting leaks as iPIPE expands.
Précis
Problems: Leak events and their consequences.
Solution: Proven leak detection.

Benefit: Early detection = less consequences.

For Satelytics' customers these numbers represent the 54 leak events where their impacts were minimized. This, in the first week of a 2019 expansion of iPIPE into the Permian Basin.
The past three years has seen Satelytics collect data, analyze, and alert its customers weekly over the Bakken. The success lead to an expansion in 2019 over a portion of the Permian through iPIPE. The consortium stood up by Hess Corporation, Equinor, Goodnight, Oasis, ONEOK, and Marathon Petroleum Corporation, with the full support of North Dakota Governor Doug Burgum, Lynn Helms, Director of the ND Department of Mineral Resources, and the EERC.
iPIPE has become the gold standard in the oil & gas industry, proving what technology to use, for what purpose, and its preparedness for field operations. Within two hours of collecting satellite data from Airbus' earth observation, Satelytics' software analyzes the data, sending out text or email alerts to threats for iPIPE members. Or, customers can login to the cloud, with 24/7/365 access to their data, analytics, imagery, and alerts.

Satelytics' customers minimize consequences, which often include:
Reducing operational loss
Keeping clean-up costs as low as possible
Avoidance of the public relations challenges associated with events
iPIPE members using Satelytics in 2020 are fusing data from satellites, UAV, and fixed wing aircrafts to illustrate versatility, prove measurement, and flow and flux rates for quantification of methane.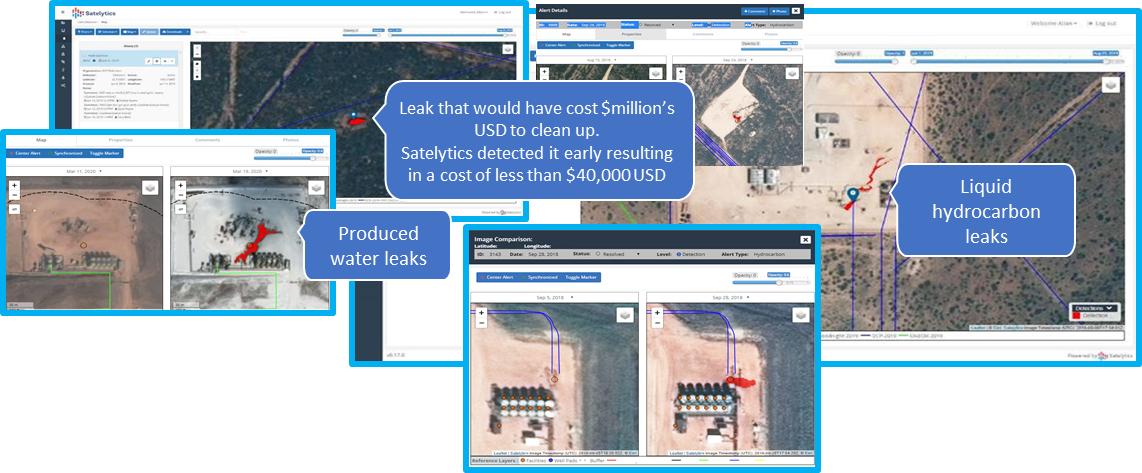 A leading oil & gas executive from HESS commented, given the current pandemic, "Now more than ever we need to ensure our most precious resource, our people, are kept out of harm's way. Using Satelytics' technology we can direct this asset, only to remedy challenges we know are 'real!'"
The success of iPIPE, inspired by some of the brightest visionaries in oil & gas, has led to the project of expanding weekly monitoring across the ENTIRE Bakken. Yes, the Bakken community, composed of producers, gatherers, and transmission companies, have pushed for another world first, weekly Basin-wide monitoring. The company members will share the program-wide component costs, but benefit from their own imagery, analytics, and threat alerts individually. Each weekly data set will be monitored for the challenges listed below simultaneously, alerting field personnel within hours of data being captured.

Of course, the Bakken members and North Dakotans will sleep soundly knowing a proven technology is at work, and keeping the most precious resource, people, out of harm's way, and only sent to areas that call for their expertise.
Satelytics Inc., www.satelytics.com, is a cloud-based geospatial analytics software suite. Multispectral and hyperspectral imagery is gathered from satellites, UAV, planes, and fixed cameras, and processed to provide both alerts and qualitative results for our customers. Data can be gathered up to a daily basis, and results are sent to customers within hours. This includes the specific problem, location, magnitude, and even qualitative information, which minimizes cost, impact, and operational disruption for our clients.
Toledo, OH – April 22, 2020. For more information, contact David Dunham, ddunham@satelytics.com, (o) (419) 728 0060 ext. #101, (c) (701) 213 0294.
Interested in our newsletter?