• Oil & Gas,Power Utilities,Pipeline,General
Breeze through the remediation process and meet bond requirements with Satelytics' vegetation management algorithms.
Précis
Problem: Navigating physical and financial damages.
Solution: Monitor, measure, document remediation.

Benefit: Solutions apply to multiple business groups.

Toledo, OH – March 13, 2020 – When they hear the word "bond," most people think of James Bond, you know, 007. But for Satelytics' customers working on remediation projects, "bond" has a completely different meaning, a financial meaning. Remediation is a shared business problem for our clients. When a natural disaster causes damage to environment or just upgrading of infrastructure, our clients are required to document what vegetation is on the path to complete recovery before their bonds are released to them. Satelytics' platform applies high power computing, geospatial analytics, AI, and spectral analysis to not only detect but also quantify damage and then provide growth measurement tools for revegetation efforts afterwards.
Satelytics detected a land slip in a right-of-way and notified the owner, preventing further damage.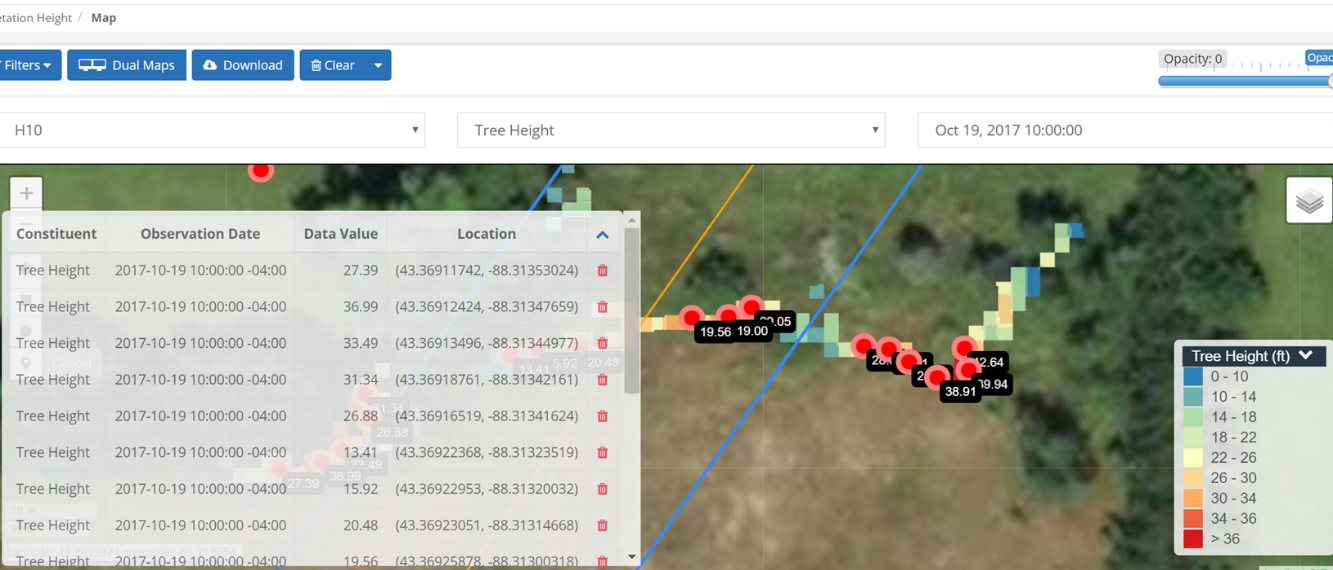 Satelytics measures tree height in a transmission line ROW and notifies personnel when growth begins to interfere with infrastructure.

Our vegetation algorithms provide confirmation to authorities that planted tree growth is meeting bond requirements in a remediation zone.
Satelytics counts as some of its treasured customers The Southern Company, Duke Energy, American Transmission Corporation, American Electric Power, and Georgia Power. These visionaries have adopted Satelytics' geospatial analytics across multiple business groups to address tough environmental and remediation challenges. The benefit in most cases is individual, but when you combine these different problems across multiple business groups within a company, the cost of the imagery data is shared. In the remote sensing industry — where data is gathered from aerial platforms, be it satellite, drone, aircraft, or other — the cost of the imagery is the biggest portion of a project. Shared costs equal greater financial efficiency for your organization and its business units!
Maverick Raber, Manager of Environmental Services for Duke Energy had this to say about our services:
"Satelytics provides a unique and innovative approach to data analysis. The use of satellite imagery as an analytical tool allows us to peer into the past, evaluate changes over time, and provides cost savings over development of complicated and expensive models."
Consider using Satelytics for your complex remediation problems today!
Satelytics Inc., www.satelytics.com, is a cloud-based geospatial analytics software suite. Multispectral and hyperspectral imagery is gathered from satellites, UAV, planes, and fixed cameras, and processed to provide both alerts and qualitative results for our customers. Data can be gathered up to a daily basis, and results are sent to customers within hours. This includes the specific problem, location, magnitude, and even qualitative information, which minimizes cost, impact, and operational disruption for our clients.
For more information, contact David Dunham, ddunham@satelytics.com, (o) (419) 728 0060 extension #101, (c) (701) 213 0294.
Interested in our newsletter?