• General
God Gave Us ONE Mouth and TWO Ears So We May Speak Less and Hear More!
We're listening to your needs, and present Satelytics for the non-connected world.
Précis
Problem: Our customers' business challenges.
Solution: Create solutions to span business operations.

Benefit: Lowering costs, providing solutions.

A variation on the original quote from Epictetus, the slave-become-Greek-philosopher who lived between 50–135 AD.
Our goal is to always exceed our customers' expectations, ALWAYS. A large part of achieving this objective is to listen to and observe the challenges our customers face daily. This is never truer than today's environment, when efficiency translates to sending valuable resources only to where they are required. We seek to develop our technology alongside our customers, applying our expertise to multiple business challenges with one set of data.
Satelytics succeeds because our customers willingly share ideas and challenges with our team, building trust and expanding capabilities. Here are two examples:
i. Solving multiple business challenges at the same time, even if the presentation of results is different for each audience.
In the past, most of our customer conversations started with a single problem focus. There may have been meetings for groups focused on leak detection and remediation, identification of areas where vegetation problems exist, or locating and identifying potential hazards in the right-of-way for our utility customers. Today, the conversations and meetings have changed — they include multiple business operations in sessions together, seeking to maximize one set of data that can be applied uniquely to their specific challenges.
In the realm of geospatial analytics, data is the largest ingredient cost. Spreading this cost amongst multiple business groups increases the return of the data investment while simultaneously improving each of their efficiencies; consequences are minimized through early detection. Satelytics is focused on the "here and now" for our customers, with alerts and alarms sent to customers via text and email in a matter of hours after imagery is gathered.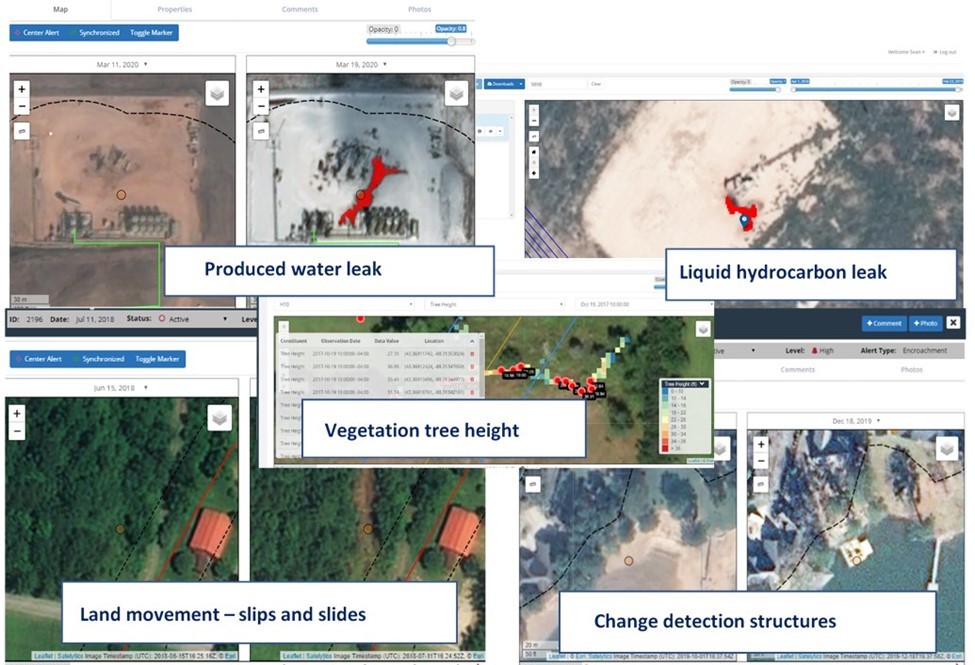 ii. Oops, NO cell or internet connection? NO problem!
Satelytics for the non-connected world came out of listening to the iPIPE community in North Dakota. Satelytics' customers in all markets have common shared challenges: geographically dispersed infrastructure in challenging areas to traverse. Sadly, even now, "traversing" seems to apply to the information highway with poor cell and internet coverage in our customers' operating areas. For this reason, our software professionals built Satelytics for the non-connected world.
This tool presents all the information of satelytics.io, our web platform, to your mobile phone and tablet without connectivity. This includes alerts, maps, alarm types, timeline selections, and audit trails on what action has been taken — anywhere in the world! Users can collect and collate more data in the field, update the record as to status, and even take photos. Once back to a connected facility, any changes made by personnel are automatically uploaded to the cloud and integrated to that specific set of records. There are no expensive seat licenses with Satelytics, encouraging all users and form factors: smartphone, tablet, and browser.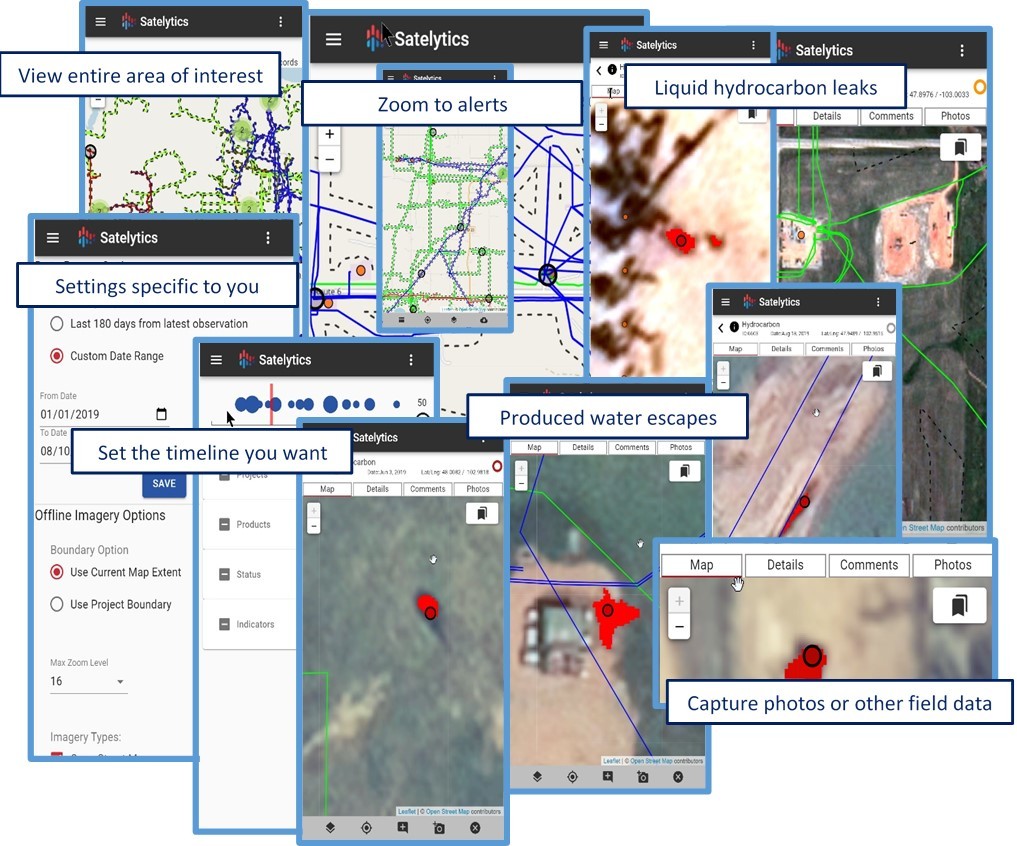 Satelytics Inc., www.satelytics.com, is a cloud-based geospatial analytics software suite. Multispectral and hyperspectral imagery is gathered from satellites, UAV, planes, and fixed cameras, and processed to provide both alerts and qualitative results for our customers. Data can be gathered up to a daily basis, and results are sent to customers within hours. This includes the specific problem, location, magnitude, and even qualitative information, which minimizes cost, impact, and operational disruption for our clients.
For more information, contact David Dunham, ddunham@satelytics.com, (o) (419) 728 0060 extension #101, (c) (701) 213 0294.
Interested in our newsletter?