• Oil & Gas,Power Utilities,Pipeline,General,Forestry
It's Almost Here: Wildfire Season. What Challenges Do You Face?
Get peace of mind with Satelytics' vegetation management algorithms.
Précis
Problem: Detect potential wildfire risks along ROWs.
Solution: Software monitors entire ROW.

Benefit: Prevent disaster with directed remediation.

It's in the news again. Wildfires in the American West the past few years have caused loss of life and property. And while utilities are pouring billions into shoring up their ROWs and infrastructure, completion of vegetation management efforts could still be years out.
In the New York Times, "What keeps us up at night is the exposure, how many miles, how many things could go wrong," said Matthew Pender, the director of PG&E's community wildfire safety program. "It only takes one tree."
Satelytics' machine learning software inspects and alerts our utility customers to vegetation and encroachment threats over an infinite number of miles or area surrounding their assets. Our science applied to satellite imagery takes human weakness out of the inspection process. That "one tree" will not be overlooked. Cloud computing power can process the billions of pixels associated with these vast areas in a matter of minutes and send alerts directly to personnel who need to respond.
Satelytics' utility customers are hiring our "software defenses" to protect and minimize consequences on their infrastructure in the following areas:
Vegetation management for growth, decline, and focused cutting
Tree speciation, identifying vegetation which might pose risk
Tree height for efficient cost-conscious focused cutting programs
Vegetation health, overall health or specifically in the growing season
The two "Rs:" remediation and restoration, how effective, and have thresholds been achieved for release of financial bonds
Vegetation moisture levels, burn scar analysis, impact of wildfire and identifying risks, potential landslips or slides from lack of vegetation
Satelytics' aerial monitoring removes risk — no vehicles, no drones, no helicopters, no planes — keep your personnel safe! Our application directs people to those areas that need attention only, resulting in cost-efficient actions only in threatened areas. Our platform, satelytics.io, uses AI to alert you to risks ahead of them becoming reality!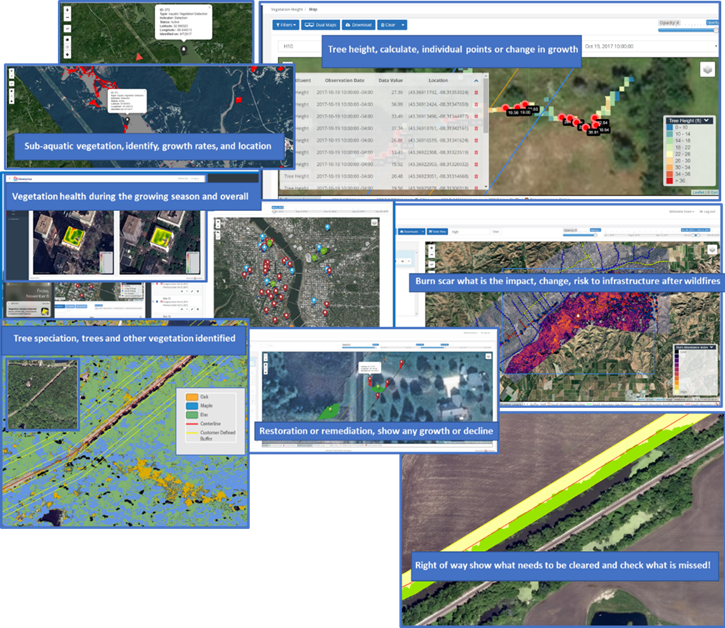 Satelytics Inc., www.satelytics.com, is a cloud-based geospatial analytics software suite. Multispectral and hyperspectral imagery is gathered from satellites, UAV, planes, and fixed cameras, and processed to provide both alerts and qualitative results for our customers. Data can be gathered up to a daily basis, and results are sent to customers within hours. This includes the specific problem, location, magnitude, and even qualitative information, which minimizes cost, impact, and operational disruption for our clients.
Toledo, OH – July 30, 2020. For more information, contact David Dunham, ddunham@satelytics.com, (o) (419) 728 0060 extension #101, (c) (701) 213 0294.
Interested in our newsletter?