• Power Utilities,Pipeline,General
The Magnificent Seven: More Than a 60's Western
Protect your infrastructure with Satelytics' vegetation management "magnificent seven."
Précis
Problem: Monitor and remediate extensive ROWs.
Solution: Satelytics' "magnificent seven" for ROW.

Benefit: Direct and cost-efficient action.

Just like the gunfighters hired to protect townspeople in the 1960 hit western, The Magnificent Seven, Satelytics' electrical utility customers are hiring our "software defenses" to protect and minimize consequences on their infrastructure!
Our clients are adapting their traditional labor-reliant routines to include geospatial analytics. Here is our "magnificent seven" for right-of-way (ROW), facilities, and shoreline management:
Vegetation management for growth, decline, and focused cutting
Tree speciation, identifying vegetation which might pose risk
Tree height for efficient cost-conscious focused cutting programs
Vegetation health, overall health or specifically in the growing season
The two "Rs," remediation and restoration, how effective, and have thresholds been achieved for the release of financial bonds
Subaquatic vegetation, hydrilla, where, how much, and early detection, which is essential to managing waterways
Burn scar analysis, impact of wildfires and identifying risks, potential landslips or slides from lack of vegetation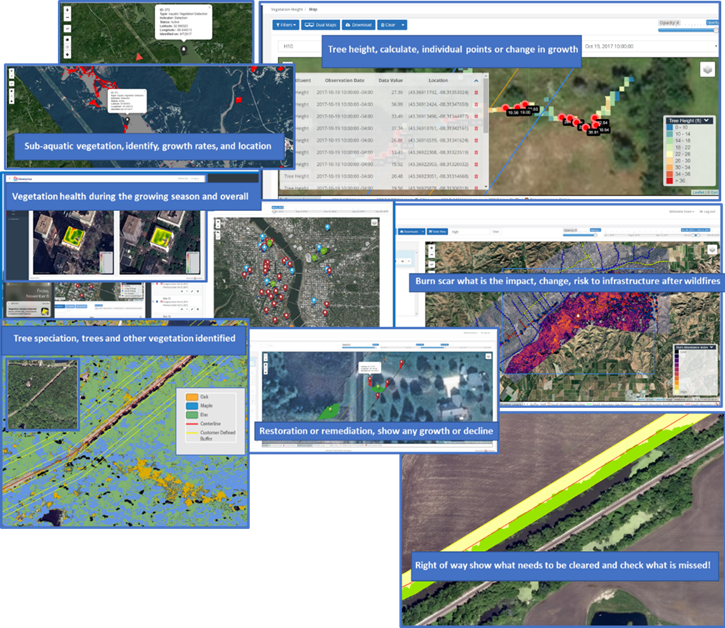 The U.S. Department of Energy estimated electrical outages are costing the economy $150 billion annually [1]. The most common cause of power interruptions is environmental in nature. Utilities and researchers both agree that vegetation management is the number one way to mitigate environmental impact to infrastructure.
An interesting case study is the August 14, 2003 blackout, the worst on record for U.S. and Canadian utilities. The incident was started initially by overloaded power lines that began to droop into overgrown vegetation along a ROW. According to the U.S. – Canada Power System Outage Task Force Final Blackout Report, "the outage affected an area with an estimated 50 million people and 61,800 megawatts (MW) of electric load in eight states and the Canadian province of Ontario. The total cost estimate for impacts to life and business in the U.S. ranged between $4 billion and $10 billion dollars" [2].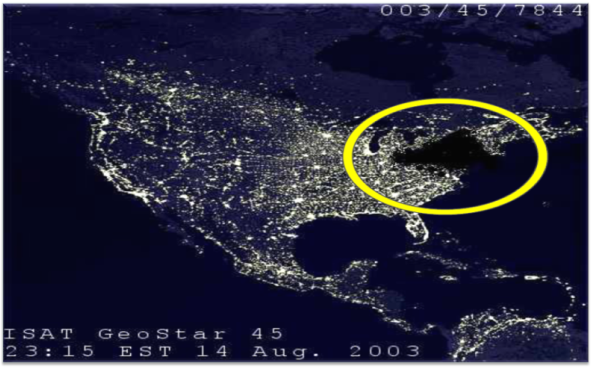 Satelytics' vegetation management tools can monitor, measure, and pinpoint exactly where you need to focus your efforts. This removes the "painting the Golden Gate bridge routine," where, once you have finished you have to start all over again! Satelytics' application directs our customers to those areas that need attention only, resulting in cost-efficient actions only in threatened areas. Our platform, satelytics.io, uses AI to alert you to risks ahead of them becoming reality! Our analytics provide threat alerts in a matter of minutes, without having to hire a team of vigilantes!
Satelytics Inc., www.satelytics.com, is a cloud-based geospatial analytics software suite. Multispectral and hyperspectral imagery is gathered from satellites, UAV, planes, and fixed cameras, and processed to provide both alerts and qualitative results for our customers. Data can be gathered up to a daily basis, and results are sent to customers within hours. This includes the specific problem, location, magnitude, and even qualitative information, which minimizes cost, impact, and operational disruption for our clients.
Toledo, OH – April 10, 2020. For more information, contact David Dunham, ddunham@satelytics.com, (o) (419) 728 0060 extension #101, (c) (701) 213 0294.

https://electricenergyonline.com/energy/magazine/274/article/Utility-Vegetation-Management-The-Key-Driver-of-System-Reliability.htm
Interested in our newsletter?