• Forestry
"Eyes on the Forest, Not the Trees"
Geospatial analytics for forestry management.
Précis
Problem: Measuring response to your silviculture practices.
Solution: Get specific with Satelytics.
Benefit: Forest health, efficient and safe operations.
This quote from Katniss Everdeen in Mockingjay, the last book in the Hunger Games series, sounds like a descriptor of early remote sensing capabilities to monitor the clearing of rainforests.

While understanding whether thousands of acres of the Amazon rain forest have been cleared may be helpful to drive policy, it isn't really useful for active, tactical management of vegetation and forested lands. Thankfully, advances in technology have delivered improved satellite sensors and cloud processing power to handle very large data sets. With these advancements have come geospatial analytics that allow highly accurate forestry and vegetation metrics to be obtained without ever setting boots on the ground. Don't just look at the forest. Look at individual trees in the forest.

Recently, we have seen increased interest in surveying forested lands with remote sensing tools. The interest has fallen into one of two categories. The first stems from traditional forestry management that ensures tree health, quantifies population, and supports wise planning of land investments. The second interest centers on building another revenue stream by selling carbon credits to industrial users through a commitment to responsible land management.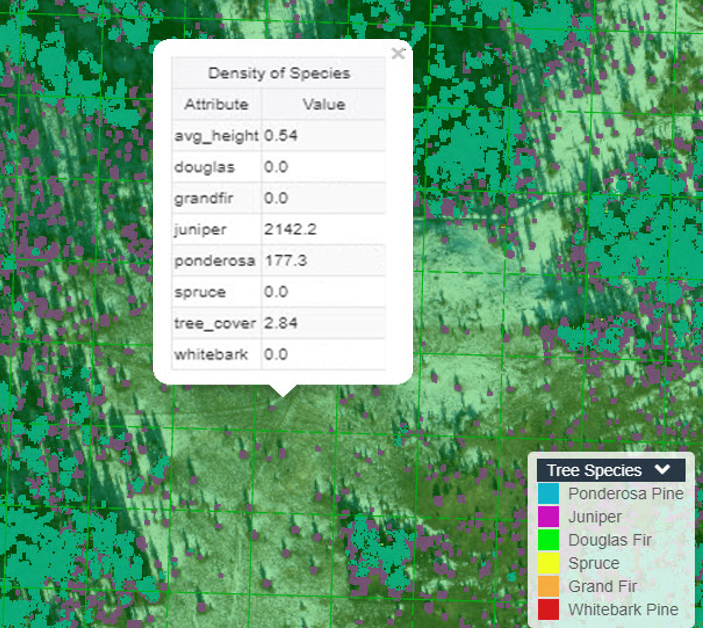 Satelytics has developed vegetation algorithms using experience gained in the electric utility corridor management area. With machine learning and a library of spectral signatures, we can provide land managers with tree speciation, height, density, and health. We task commercial satellites to collect high-resolution (multispectral imagery of forested lands with resolution down to the square foot. With that type of specificity, we can identify specific trees and inform on their health and physical statistics.
With unlimited cloud computing potential Satelytics can handle very large geospatial data sets and provide the outputs in a simple web portal for forty acres or millions of acres. We also offer "Satelytics for the non-connected world," so operations personnel have access to critical information in remote areas without connectivity. Take pictures, log field reports, all with exact GPS coordinates for every feature.

More satellites, better algorithms, faster data processing… it's a new dawn for the remote sensing industry and the opportunities are endless!

Interested in our newsletter?