• Pipeline
Précis
Problem: A host of challenges demand a new approach.
Solution: Geospatial analytics.
Benefit: Better way to manage your assets and reduce risk.
Has someone ever told you to get a second opinion? When I have been told that, it is usually in response to a medical condition or making a big purchase. The opportunities for earth observation are increasing greatly and when connected with science-backed analytics, an incredible tool is made available, offering a unique perspective on your assets. Is there a better way of managing your assets, reducing risk? Get a second opinion and new perspective with Satelytics.

Satelytics' measurement algorithms are developed to provide solutions to specific business challenges faced by our industry customers. The algorithms detect and, in many cases, quantify constituents in parts per million (ppm) to parts per trillion (ppt) concentrations on water, land, and in air. This capability is akin to performing spectroscopy, but instead of being done in a lab on a small sample, measurements are completed using sensors on a satellite or other imaging platform over land and water assets.

Think about these possibilities and perspectives:
The most pressing concern we hear from our pipeline customers is that encroachments in the right-of-way cost them significant amounts of money every year. With Satelytics' Constant Vigilance™ algorithms, you can reduce risk through proactive monitoring for trees and vegetation, vehicles, agricultural activities, construction, erosion, and digging.

From the same set of imagery used for encroachment detection Satelytics can provide a "second set of eyes," in addition to SCADA, for liquid leaks. Our liquid algorithms detect the presence of hydrocarbons and produced water on land or water. Another set of algorithms for vegetation health can identify subsurface leaks where the root system has been exposed to oil or brine. These small pinhole leaks are often missed by SCADA systems because they do not create enough change in pressure to trigger an alarm, but sensitive vegetation is affected quickly.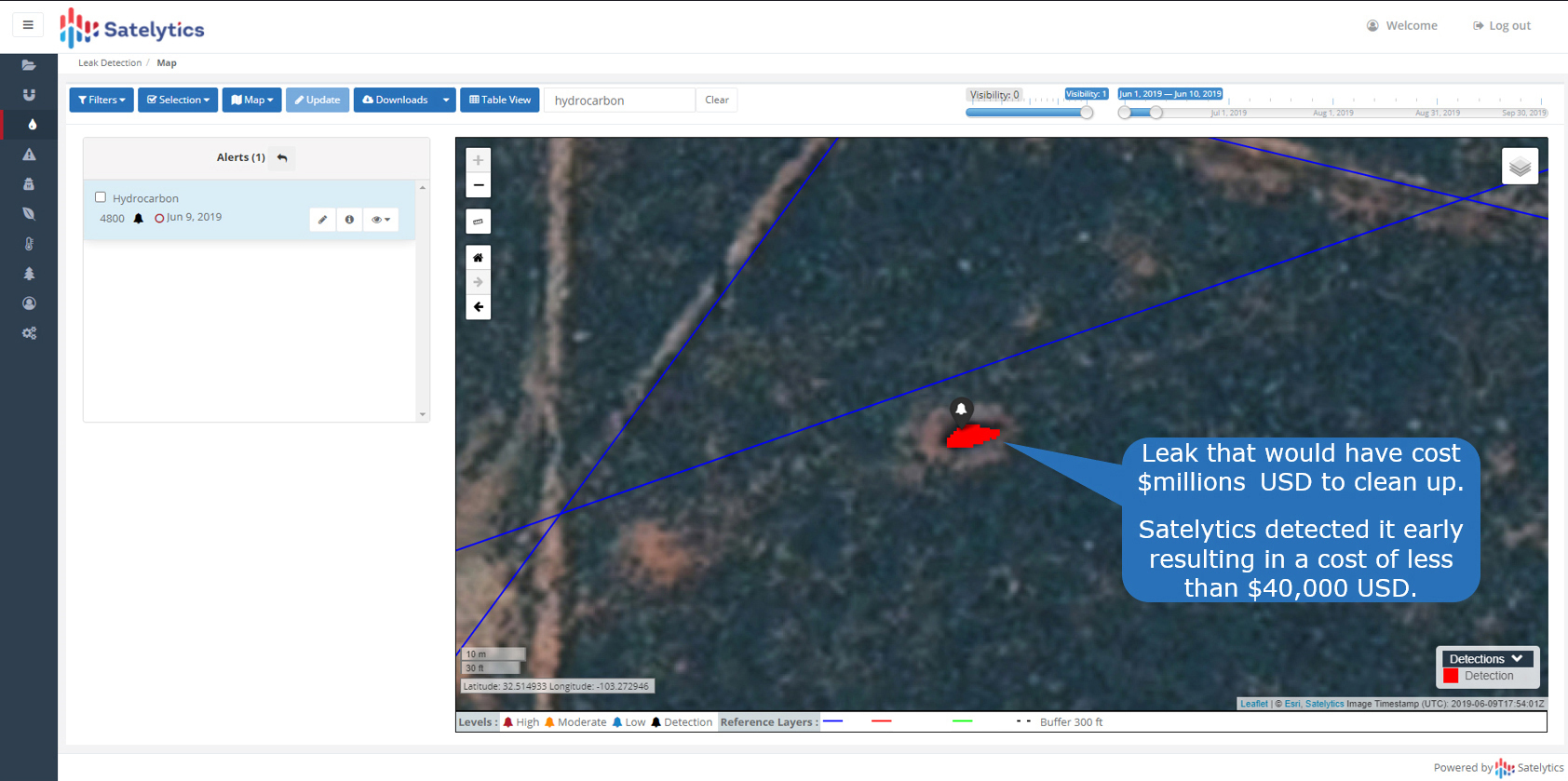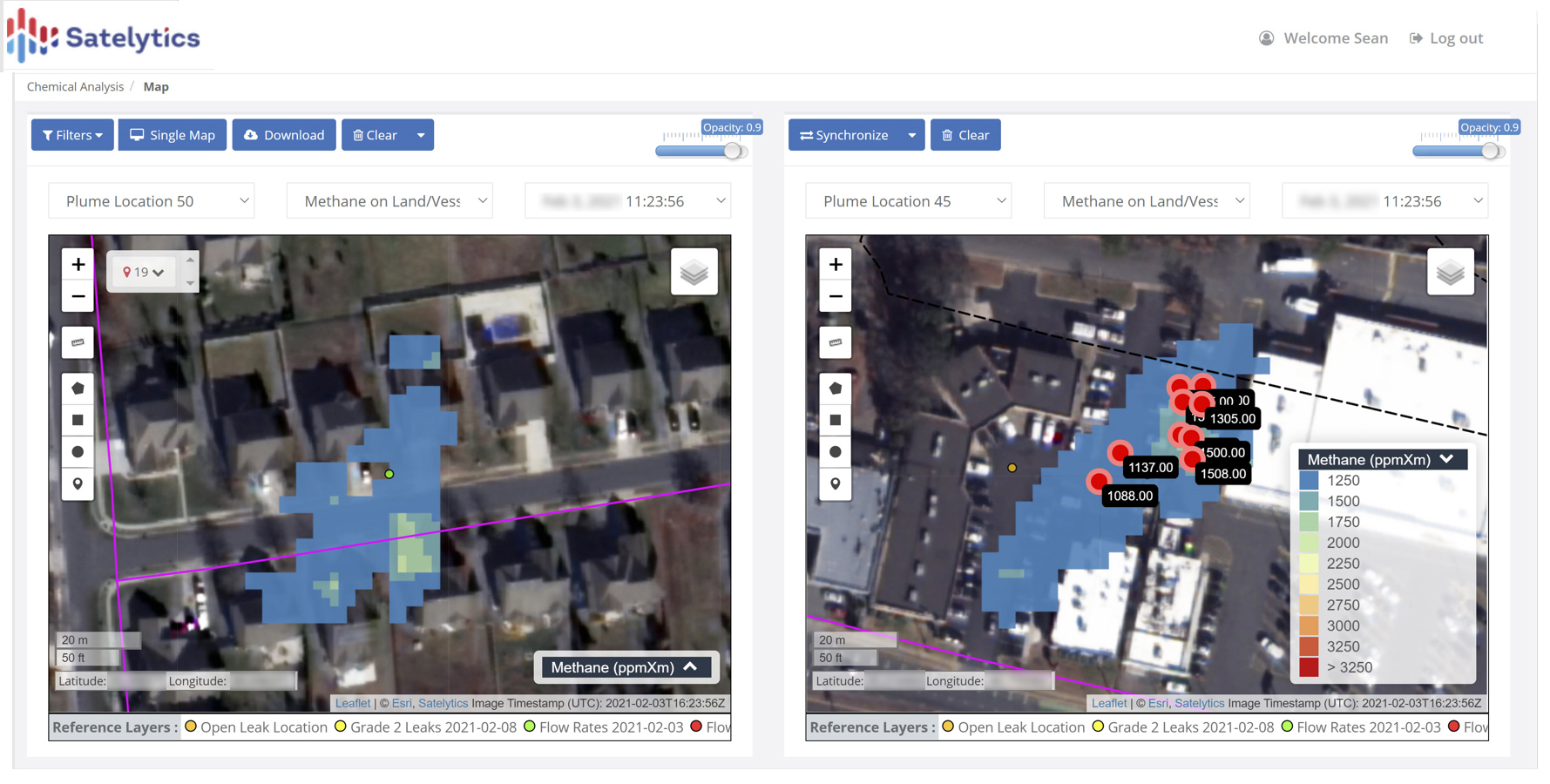 Vegetation management isn't just for electric transmission infrastructure. Coverage of pipelines is important in reducing threats also. Constant Vigilance™ monitors for vegetation health, cover, and even speciation of grasses to ensure the easement remains clear. In areas where remediation or repair work has been completed, we can certify vegetation regrowth so financial bonds can be released. We can also identify areas of bare soil and exposed pipe on land or shorelines for water crossings. These same algorithms are used to identify small land movements before they become disasters.

We are also hearing from many of our utility customers that they can reduce insurance premiums by deploying advanced monitoring tools like geospatial analytics over their networks. For many, this becomes a zero-sum implementation or even reduction in spending when incidents and miles driven are considered.
Is there a better way of managing your assets, reducing risk? Get a second opinion and new perspective with Satelytics.
Interested in our newsletter?