• Specialty Chemicals
Specialty Chemicals and Refineries
Précis
Problem: A host of challenges demand a new approach.
Solution: Geospatial analytics.
Benefit: Better way to manage your assets and reduce risk.
Has someone ever told you to get a second opinion? When I have been told that, it is usually in response to a medical condition or making a big purchase. The opportunities for earth observation are increasing greatly and when connected with science-backed analytics, an incredible tool is made available, offering a unique perspective on your assets. Is there a better way of managing your assets and reducing risk? Get a second opinion and new perspective with Satelytics.

Satelytics' measurement algorithms are developed to provide solutions to specific business challenges faced by our industry customers. The algorithms detect and, in many cases, quantify constituents in parts per million (ppm) to parts per trillion (ppt) concentrations on land and in water and air. This capability is akin to performing spectroscopy, but instead of being done in a lab on a small sample, measurements are completed using sensors on a satellite or other imaging platform over land and water assets.


Think about these possibilities and perspectives:
Large industrial facilities require water and lots of it. Satelytics' water measurements are a completely new way of measuring water quality and conditions in holding ponds, effluents to lakes and rivers, sediment loading, and management of thermal releases. Our water quality algorithms are accurate to parts per billion (ppb) concentrations. Our thermal measurements are accurate to within 1.5 °C. From the same set of data, we can also pinpoint hydrocarbon sheens, bathymetry, and shoreline erosions.

Air emissions are always an area of concern for Satelytics' industrial customers. We are the only geospatial analytics firm to offer methane detection down to double-digit ppm levels and quantification of leak rate as low as 450 SCFH (pinpointing source to within 3 meters). Our methane tool has been proven accurate to within 8% by third-party blind tests. As additional sensors become commercially available in the coming months, we will be looking to include gas speciation as part of our offering.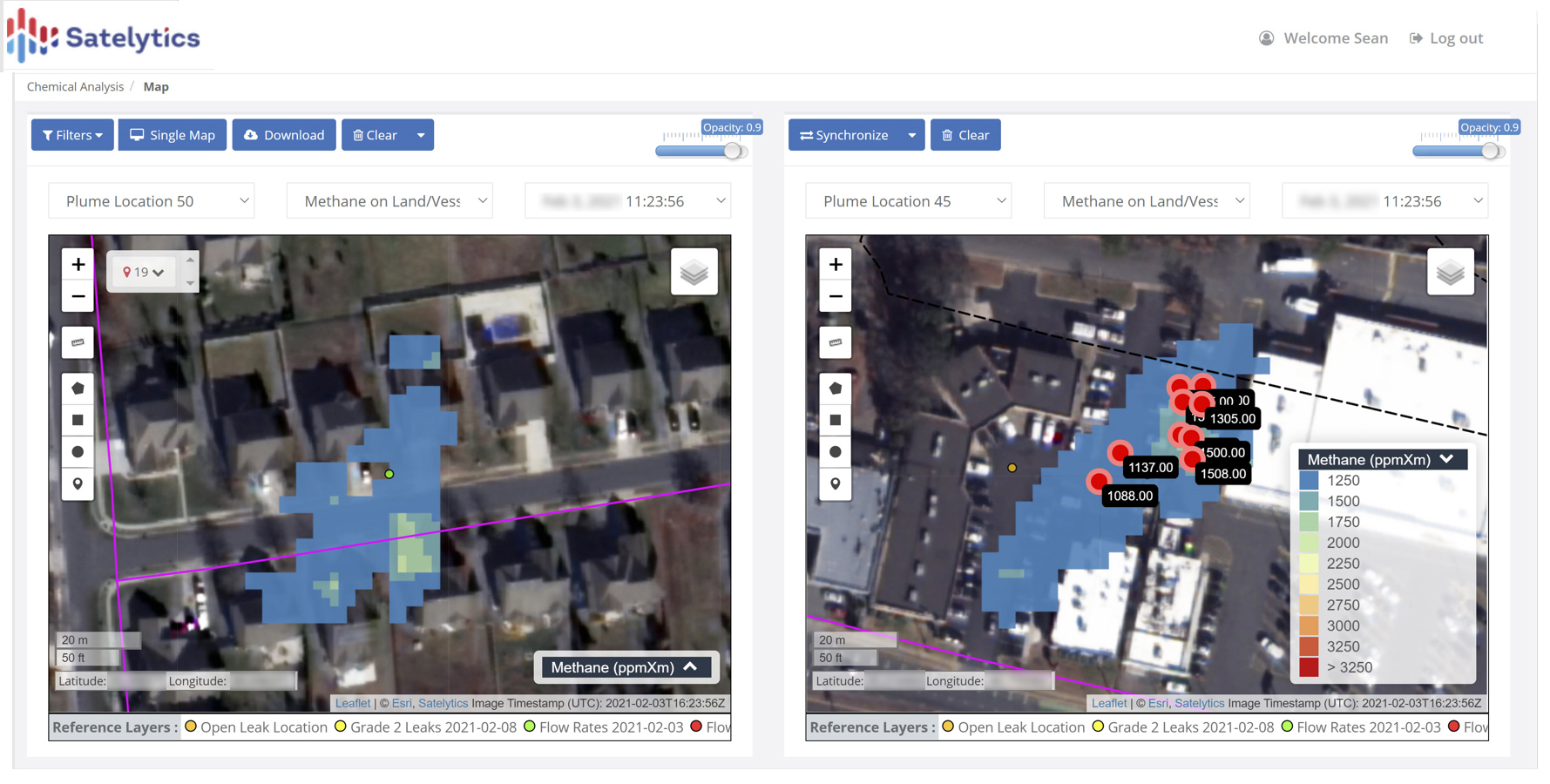 Our environmental services customers in the chemical industry use Satelytics' algorithms today on remediation sites for heavy metals, pH, dust characterization and spread, hydrocarbons from legacy sites, and more.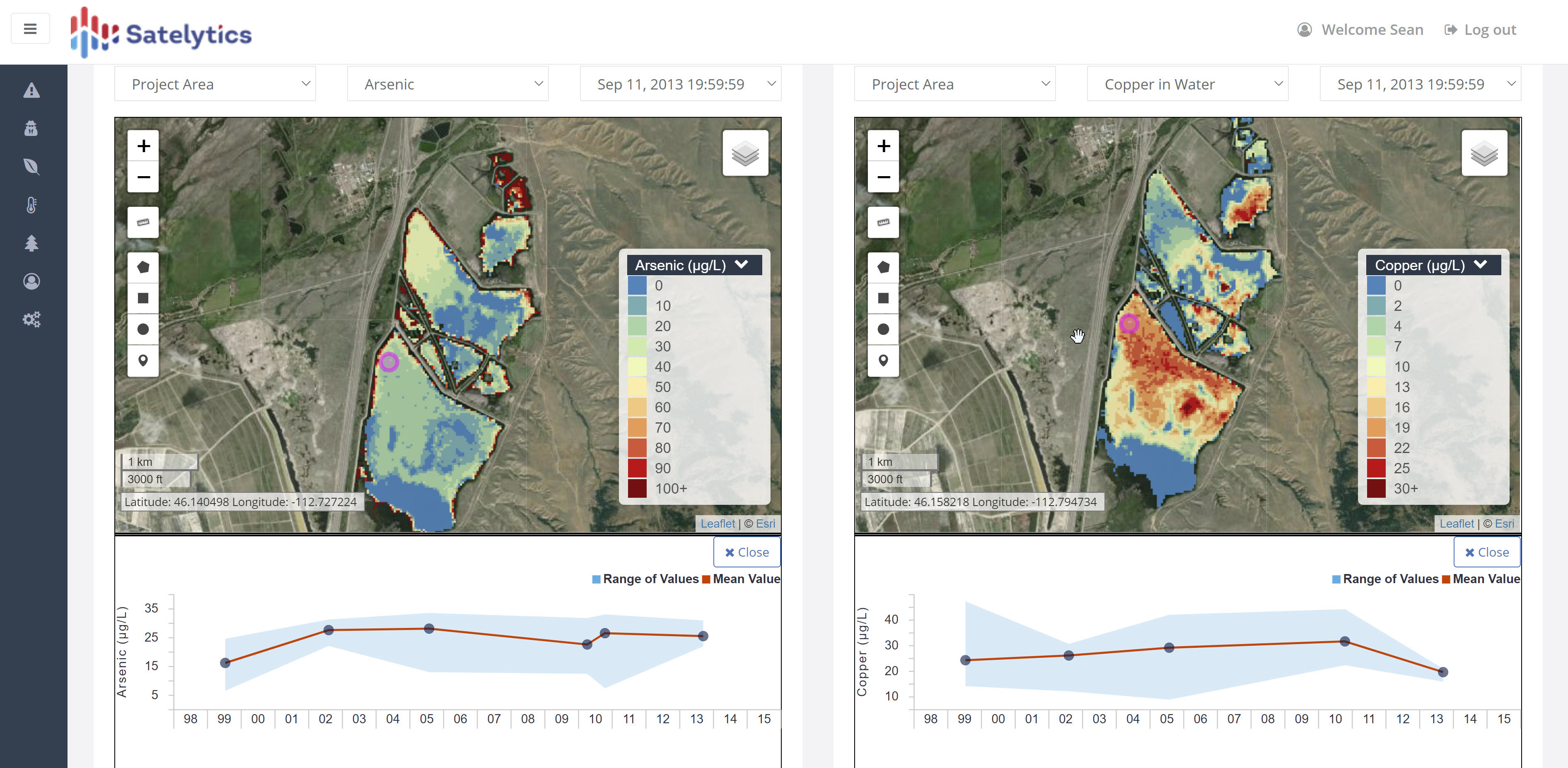 A relatively new area for Satelytics that has stemmed from the vegetation management work we provide for our utility customers is forestry survey, the outputs of which are being used to verify carbon uptake. Our customers are asking what solutions we offer for their fledgling carbon trading business. The tools for this include tree speciation, tree height, forest health, tree density, canopy cover, and digital surface models. With proven algorithms, the task of verifying forest conditions has decreased the cost, time, and risk, associated with sending an army of foresters out into the field. Our algorithms also remove the error associated with human observation.
Is there a better way of managing your assets and reducing risk?

Get a second opinion and new perspective with Satelytics.

Interested in our newsletter?