• General
Satelytics' measurements: there's more where that came from!
Précis
Problem: Evolving industrial needs drive new functionality demands.
Solution: 40+ proven algorithms + endless possibilities for more.
Benefit: Solve multiple business problems with a single set of data.
Over the past few weeks of this series of articles, we have highlighted each of the 40+ algorithms currently provided by Satelytics. Our business model was designed to drive value from a single image to as many business cases as possible. As a result of this and the spectral science we utilize, a suite of algorithms that numbers 40 today will grow to 50, 100, or more — all deployable from a single set of data! And each tuned to a specific industrial need, with validation provided by early adopters.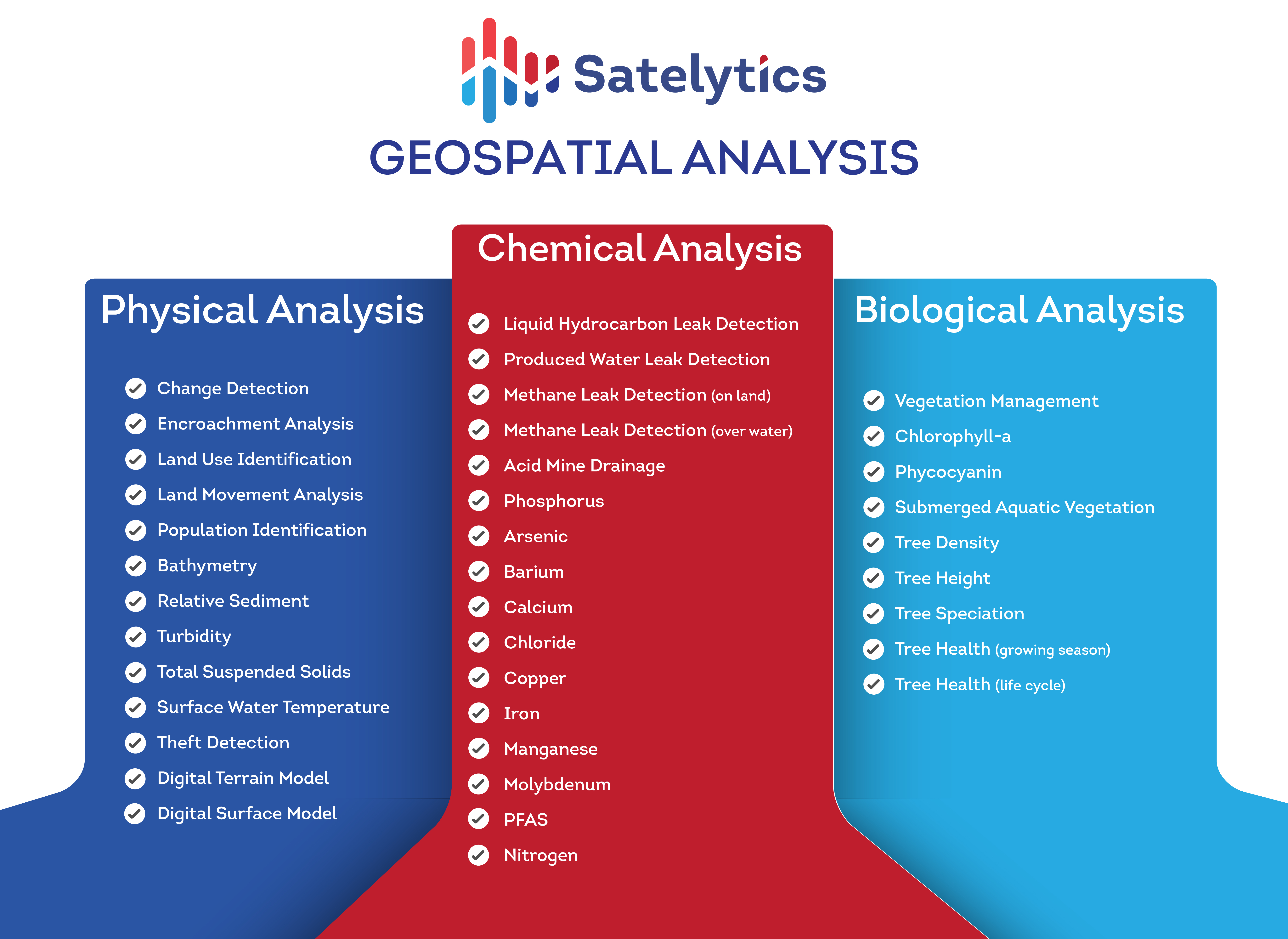 Every chemical, metal, and material has a unique spectral signature, so the opportunities are endless. In fact, our scientists have recently built a new tool for vegetation speciation. Gas speciation is also in the works, which would expand on our industry-leading methane measurement capability to include longer carbon chain gases and carbon dioxide. Additionally, there's great interest in understanding the ability to sequester carbon from nature over large land areas.

Along with the spectral signature of a constituent, our algorithms are trained to recognize the intensity of that value, meaning a quantitative output is possible for many constituents. Satelytics gets to quantification by field-validating algorithms in tandem with independent laboratories. This includes gathering raw imagery of variable spatial resolutions from multiple sources and simultaneously acquiring material samples. From this set of samples and imagery, an algorithm is calibrated, and then the AI goes to work, reviewing every pixel, every time with accuracy.

What monitorable factors are of interest to your business case? We have 40+ algorithms to address your needs. If we don't have a proven algorithm, we are always seeking new early adopters to help us develop an algorithm that addresses new, specific needs.

The field of geospatial analytics is just scratching the surface of what is possible, so call us today to discuss our algorithms — including the ones yet to be developed!
Interested in our newsletter?