• Power Utilities,Pipeline
One of 40 – Land Classification and Population
Gauge risk and infrastructure planning with specificity.
Précis
Problem: Planning ROWs requires knowledge of land use and changes in land use.
Solution: Automate land classification notification of changes.
Benefit: Facilitate optimized planning and enforcement of ROW agreements.
What areas of your infrastructure face the most risk and keep you up at night? Is population growth bringing encroachment threats? Is there a better way to upgrade or plan new assets? Satelytics has addressed these questions and more around the world.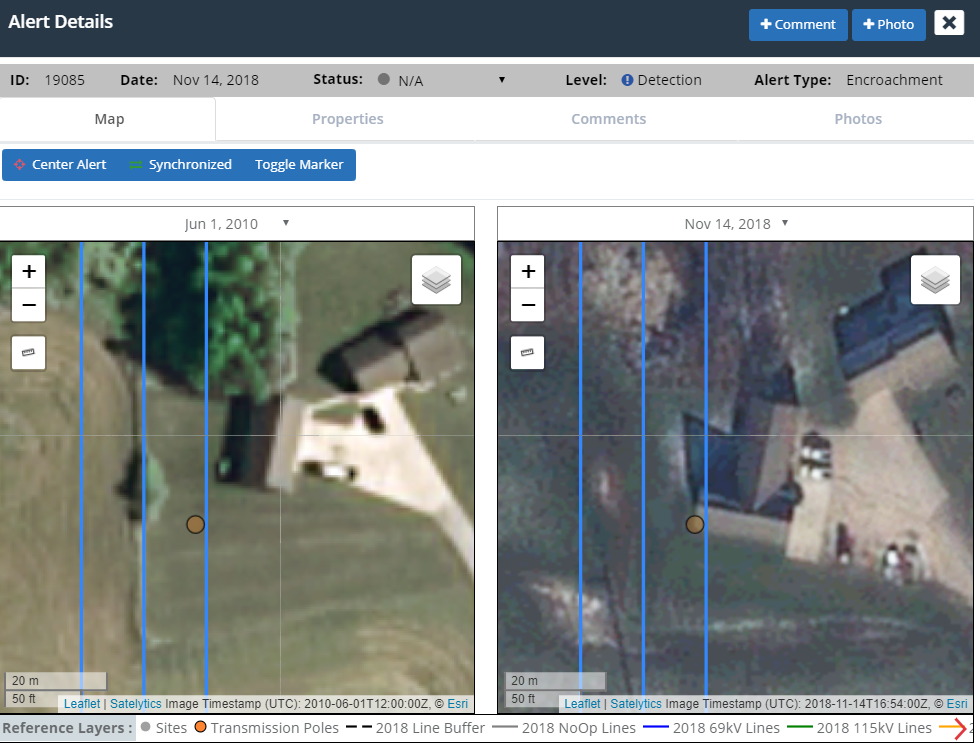 Land classification projects are completed by midstream and utility companies to search for changes that present risk to infrastructure, increase integrity, and conduct routine surveillance programs. With geospatial analytics, common classification categories such as water, man-made, vegetation, and soil can be further specified as urban/rural, single-family dwellings, commercial buildings, agriculture, water, vegetation (including speciation, exposed soil, and erosion), and more. Classifying your land and its changes shows you where to focus preventative efforts and routine monitoring.
Satelytics also provides information to determine population growth and decline. This could be as simple as monitoring land clearing for development, new roads, or residential construction. In my hometown, population growth is pushing to the south with rapid development of homes, apartments, and commercial real estate. In contrast, the north and west sections of town are experiencing the expansion of heavy industry and manufacturing. Both present the opportunities and the risks brought by rapid growth. Detection of these changes can be offered as primary project outputs or in tandem with any combination of Satelytics' 40+ algorithms.
We source imagery, run analytics, and provide alerts to land changes and infrastructure threats. All outputs are ready for viewing within a few hours of satellite overpass and can be incorporated into internal software systems through a full suite of APIs. Our Constant Vigilance™ algorithms are data agnostic and perform with guaranteed accuracy on every pixel, every time. We keep data in perpetuity, allowing customers the ability to rerun other algorithms as technology develops. Additionally, we do not charge user license fees, benefiting multiple business groups within your company.

Land and infrastructure are the bread and butter of your organization. Let Satelytics help you keep them protected.
Interested in our newsletter?