• General
Returning Results, Avoiding Rubble
Speed up your geohazard response.
Précis
Problem: Geohazards threaten assets.
Solution: Increase monitoring frequency.
Benefit: Rapid response.
Monitoring for geohazards like land movement and erosion has traditionally been a long-term project. Traditionally, flying over lines, transferring the data, running analytics on that data, and then returning measurements has taken days — if not weeks — before sorting out how crews need to respond. That's too much time between detection and results to mitigate catastrophe.
Satelytics was designed, first and foremost, to rapidly return survey results. With Satelytics, alerts to geohazards are delivered hours after imagery is gathered, so you can respond before incidents become disasters.
Satelytics is data agnostic, meaning we can process spectral data from any number of commercial sensors. However, we primarily utilize satellite data over data from other collection platforms to produce our actionable alerts. There are two reasons for this:
Satellites can rapidly survey large areas.
The raw data collected is transferred to the cloud for processing within hours.

Satelytics' Constant Vigilance™ algorithms provide physical analyses and alerts to geohazards. With our change detection capabilities, we compare current and past surveys to detect land slumping and other land movements. Satelytics also identifies signs of erosion like exposed soil, changes in vegetation cover, and flooding.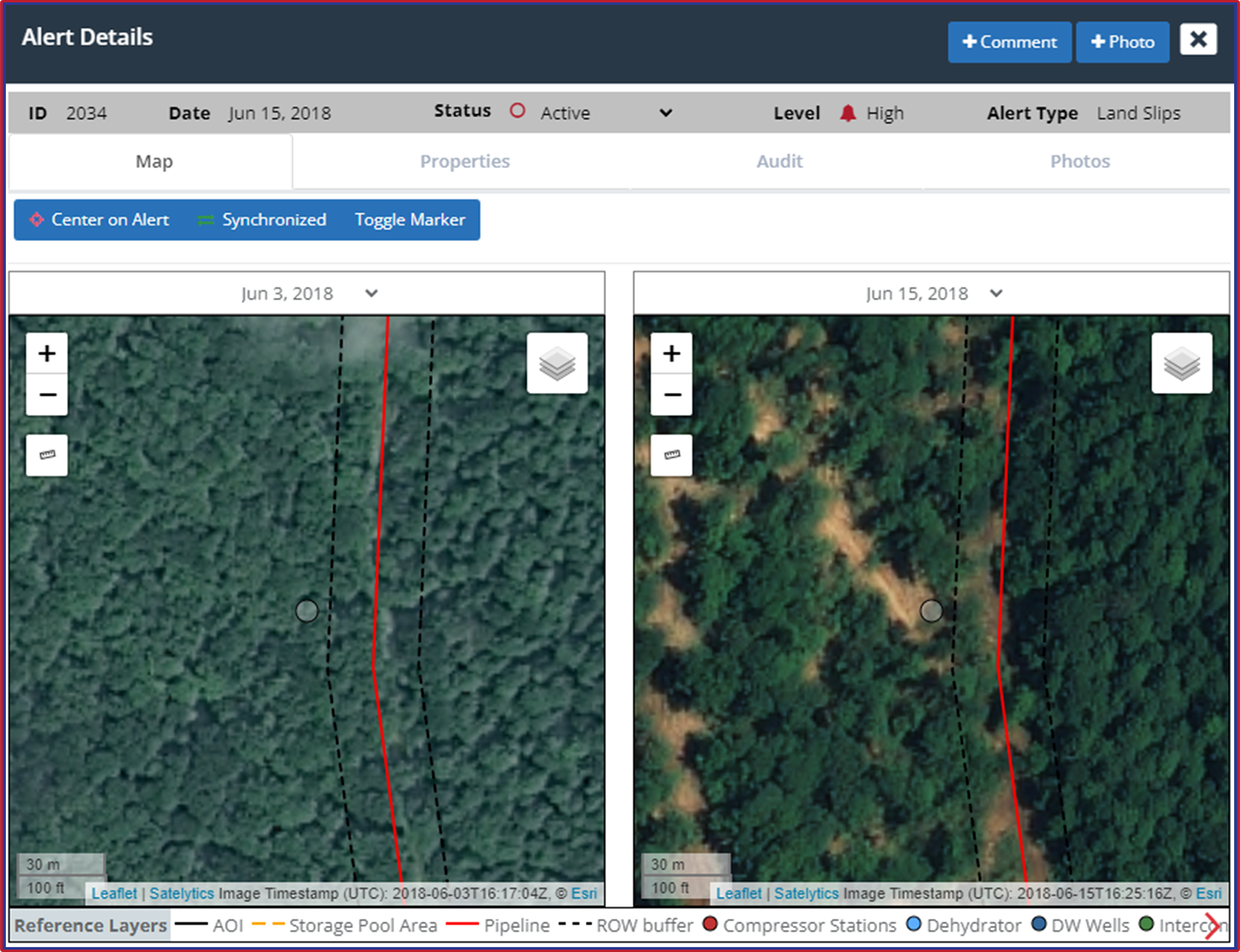 Additionally, we offer our customers digital surface models. These include both ground elevation and vegetation height.
All alerts are accessible on our web-hosted platform, avoiding the need to install anything on internal networks. We include access to our mobile application with every project too, enabling alert viewing for field crews in remote areas without connectivity.
Rethink your geohazard program with Satelytics' rapid response solution. Contact us today and schedule a personalized demonstration!
Interested in our newsletter?