• Power Utilities
Satelytics' vegetation management solution tracks tree health.
Précis
Problem: Unhealthy trees threaten ROWs.
Solution: Monitor with high resolution.
Benefit: Avoid outages, asset damage.
Stressed and dead trees are more prone to falling than their healthy counterparts: this is obvious. What isn't obvious is one unhealthy tree amongst hundreds of thousands. Satelytics' vegetation management suite monitors our customers' rights-of-way, identifying the health of individual trees and tracking it over time.
There are many stressors that affect the health of trees. These include:
Drought
Excessive rainfall
Lack of nutrients
Physical damage
Encroaching human activities
Blights
Pests and invasive species
Whatever the cause, unhealthy trees pose risk. We're here to alert you to all of them.
Satelytics uses advanced spectral analysis to assess the health of trees, identifying each species' unique spectral signature. Our vegetation algorithms run on high-resolution (50 cm) data, fine enough to analyze individual trees and branches.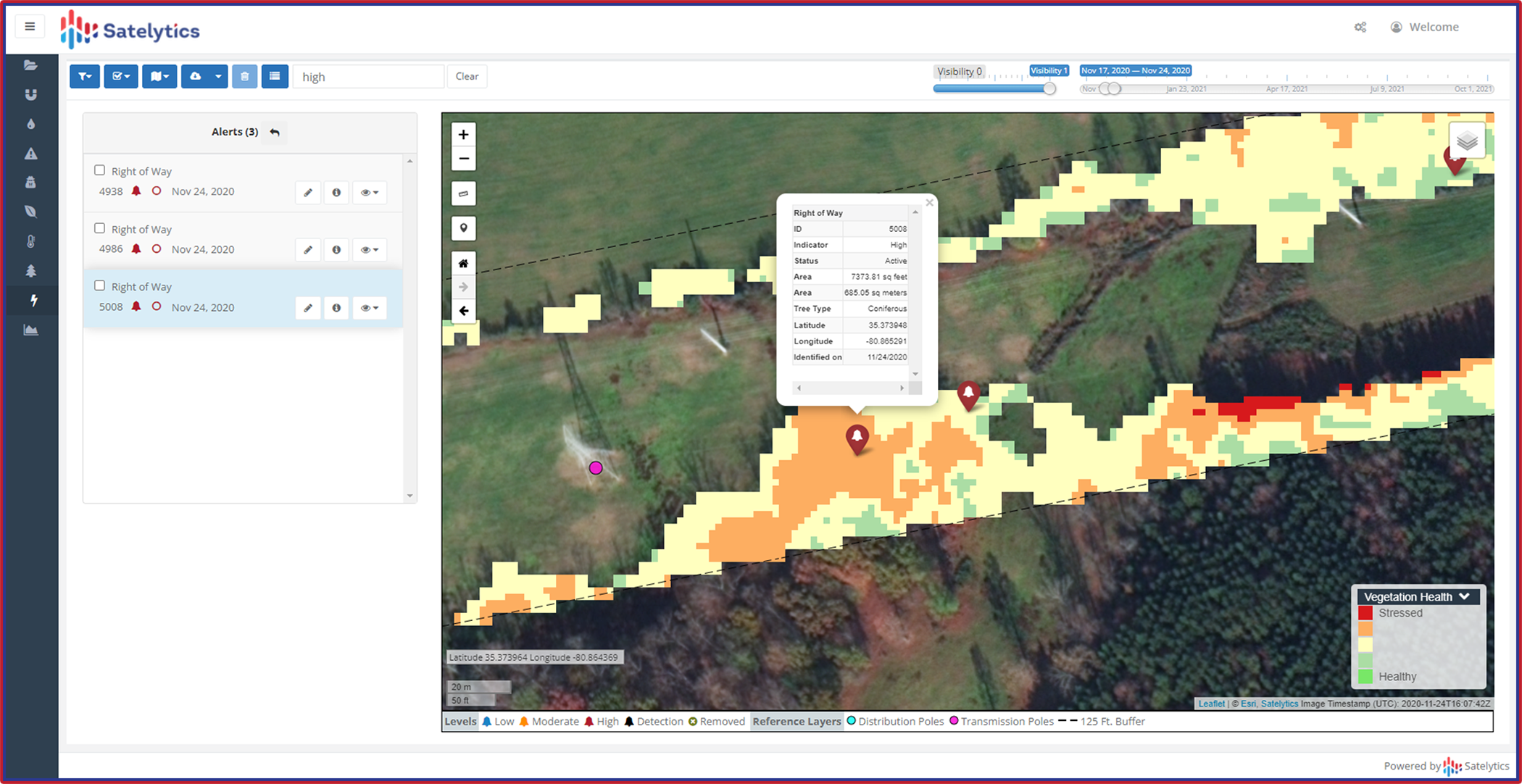 There are two parts to identifying tree health:
The algorithms first identify the tree species. We have deployed this solution across North America and several other continents, growing our existing spectral library of hundreds of species.
Our algorithms compare the foliage of a healthy tree in the identified species to what is detected in the current data. This comparison determines which trees are growing or declining in health.
Proactive monitoring with Satelytics puts your vegetation program ahead of disaster and risk. We return results a few hours after data capture, allowing field crews to promptly respond to areas needing their attention.
Racing to reduce vegetation risks? Let's talk.

Interested in our newsletter?