• Power Utilities
Hot topics for gas & electric utilities
Précis
Problem: Myriad threats.
Solution: Use one set of data to address multiple threats.
Benefit: Save money, reduce risk.
Our business development team is fortunate to hear questions and interests from innovative leaders at utility companies who are seeking new tools to assess the state of their infrastructure and environment. We listen intently to these questions because they drive us to continuously improve the accuracy of our targeting of industry's most pressing challenges.

Here is what we have been hearing from our existing and potential utility customers about the challenges they need help addressing:

Disaster Response and Preparation

With an early and challenging wildfire season, we have heard from many people looking for tools to address environmental threats. One of the new metrics we are offering to electric transmission customers is tree strike potential. This metric is made up of tree height, simulation of the wiring zone, and tree speciation and health. Strike potential refers to the height of a tree and its distance laterally from the wiring zone. If an 80-foot tree is 40 feet away from the wiring zone and it is hit by lightning or falls over it has the potential to hit the power line. With tree health, our vegetation algorithms analyze bands in the infrared spectrum to identify trees that are stressed or diseased. Tree strike potential has been embraced enthusiastically by several customers to reduce the risk facing infrastructure and confirm that tree cutting programs are being completed as contracted.
Natural Gas Leak Survey

Satelytics' methane algorithm detects plumes as dilute as 10 ppm, with flow rates as low as 450 scfh, to within 4 meters of the source. We are seeing a lot of interest from our utility customers who are looking to reduce emissions, minimize expenses associated with after-hours service calls, and understand the seasonal fluctuation of hardware and equipment. Customers are also using our leak data in their compliance programs with regulators.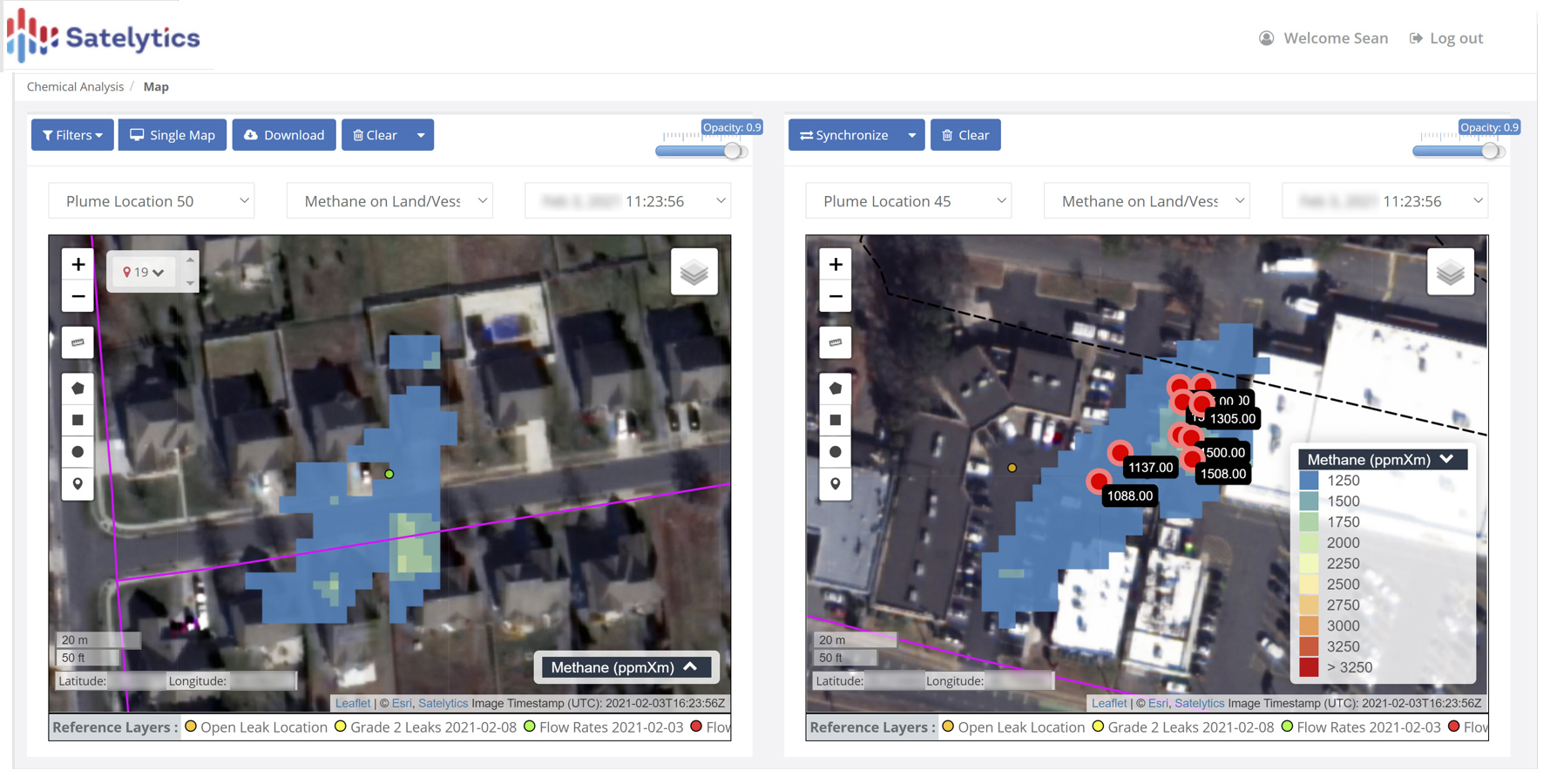 Encroachments and Damage Prevention

This is the bread and butter of what Satelytics does and the number one area of interest we hear from prospective customers. "Can you notify us ofillegal construction, digging, or other encroachments, near our infrastructure?" Satelytics uses high-resolution imagery (0.5-meter or better) to identify encroachments with specificity. The follow-on question is then, "How soon can you get us these alerts?" Our algorithms process on the cloud and analytics are ready for viewing in a matter of hours after satellite overpass.

Forestry and Carbon Uptake

Land management for carbon uptake is a relatively new request from our utility customers but a question we are hearing more frequently in the last 3-4 months. Utilities manage very large land areas associated with their infrastructure. Our vegetation management algorithm suite provides speciation of trees, grasses, or crops. It also includes tree height, health, density, and land cover. As carbon markets become mainstream companies are looking to add another revenue stream for better land and environmental practices.

What are your needs? We are all ears. Reach out to us today if you face any of these challenges.
Interested in our newsletter?