Ensuring Environmental Health & Safety for Power Companies Using Satellite Data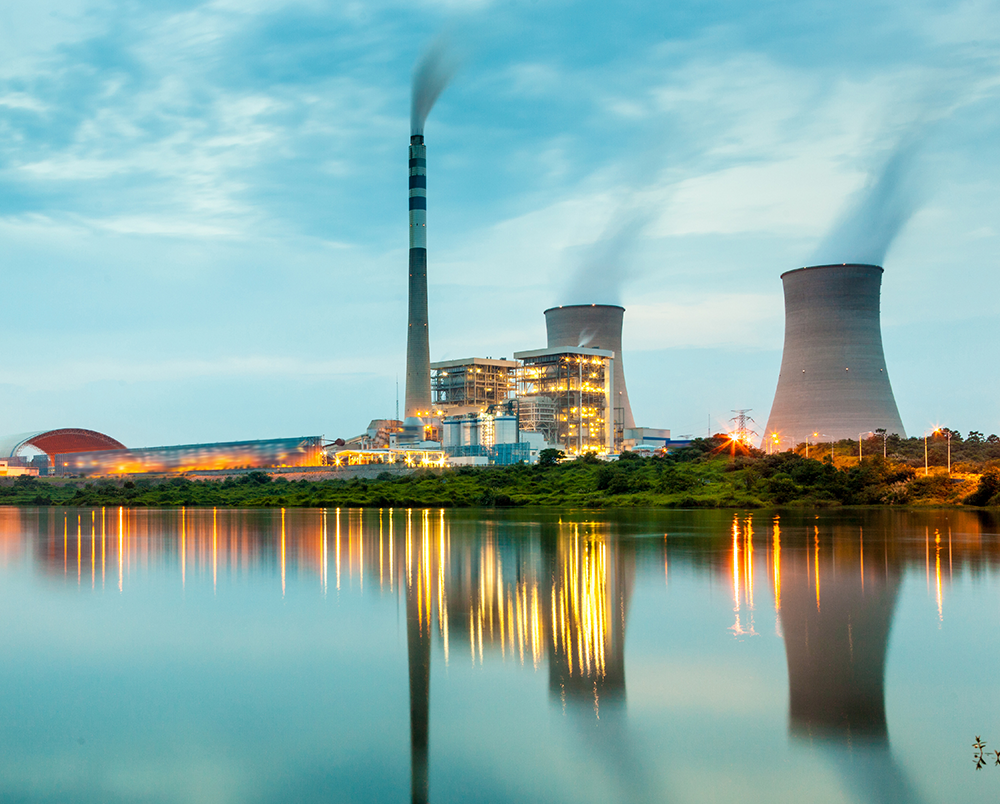 The modern world relies on dependable electrical power. Power companies use a number of different types of base fuels (coal, biofuels, natural gas, nuclear, solar, wind, water), in various kinds of power plants to provide enough electricity to satisfy the needs of today's society.
Power companies face a myriad of regulations and rules to deliver a safe, consistent, and unfaltering product while realizing operational efficiency. During the permitting process, critical attention is paid to environmental health and safety concerns. Thermal pollution can devastate water bodies used for power processing
Incompatible activities in the right-of-way corridor can lead to service interruptions and even fires or electrocution. Coal combustion waste called coal ash or fly ash is often quite toxic and must be monitored and managed carefully.
Thermal Effect on Water Bodies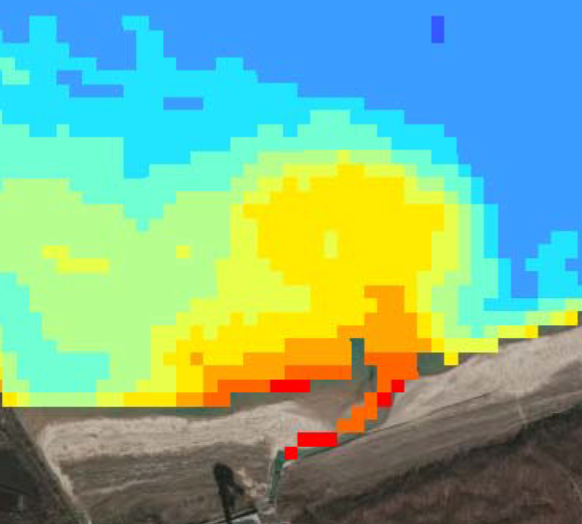 Along with electricity, power plants generate an immense amount of hot water in the process of turning turbines or cooling nuclear power systems. Most generation facilities are located on rivers or lakes to take advantage of proximal access to water necessary for system operation. Increasing the temperature within a body of water causes a negative chain reaction of effects including decreased oxygen and other gases and elevated dissolved minerals.  These repercussions can lead to lower water quality, weakened aquatic ecosystems, and harmful algae growth.
Energy regulators have taken serious steps to protect water quality and fishery ecosystems.  Various rules under NPDES (National Pollutant Discharge Elimination System) permits and the USEPA CWA (Clean Water Act) were established to "ensure that the location, design, construction, and capacity of cooling water intake structures reflect the best technology available for minimizing adverse environmental impacts." As a result of these regulations, plant operators are left to develop a plan for intake and discharge that must be approved by regulatory authorities.  
Power companies have an immediate need for an efficient and cost-effective method to determine the temperature of large bodies of water.  Satelytics is the solution: a patent applied method to derive water surface temperature from satellite images.  This technology enables constant monitoring and cost effective thermal assessment across entire bodies of water and over large regional area.
Right-of-Way Corridor
We have one goal: to identify problems for our customers before they become disasters–operationally, environmentally, financially, or otherwise.
Utility companies in the US operate a complex network of more than 450,000 miles of high-voltage power transmission lines. Those high-voltage lines carry power over long distances from the power plants to the transformer stations where it is distributed to end users. The property under and around the transmission lines (the right-of-way) must be carefully monitored. The right-of-way enables the power company to perform vegetation management, land change assessment, and to maintain the power lines and equipment. Safety and the ability to access power lines at all times are key in managing the right-of-way. 
Visual inspection using airplanes or foot patrols are expensive, impractical in hazardous locations, and often error prone. Monitoring right-of-way activities with satellite imagery enables the 'big-picture' view of a power company's assets.  
Combustion Waste
Coal-fired power plants generate 140 million ton of  ash, sludge and other wastes every year.  These waste contain pollutants and toxins that must be managed, monitored and mitigated. Accumulation of these wastes (called coal ash or fly ash) is a major environmental concern in the United States. 
Fly ash is rich in many elements, typically aluminum, calcium, iron, magnesium, sodium, potassium, sulfur, and phosphorus. Mapping and monitoring the distribution of these chemical concentrations is important for environmental health and safety. 
Conventional methods of sampling based on point measurements collecting intensive sampling of large-scale contaminated areas are expensive, time-consuming, and often impossible as the areas may be hazardous.
Remote sensing has long been used as an alternative method for determining and mapping the physical and chemical characteristics of exposed soil. Multispectral satellite image analysis effectively map soil composition. Compared to point measurements made by ground-based soil sampling and chemical analysis, Satelytics' measurements have a great advantage in mapping the spatial distribution and concentration of elements and chemical compositions over time.
Satelytics SaaS data can be delivered to its customers via laptops, tablets, or mobile devices, enabling quick action to be taken if necessary.  Importantly, the collected data is easily transferable for reporting to regulatory agencies. As explained by CEO Sean Donegan, "We have one goal.  To identify problems for our customers before they become disasters – operational, environmentally, financially, or otherwise."  Satelytics looks forward to sharing our ideas with power plant companies and welcomes inquiries.