• Pipeline
When Is Good Enough Not Good Enough?
Is merely complying with regulations the best move?
Précis
Problem: Pipelines are reliable, but not 100%.
Solution: Geospatial analytics minimize rare, but costly problems.
Benefit: Hero status for companies with foresight to employ advanced technology.
Pipelines are the safest method of transport of hydrocarbons and almost everything else transportable through a tube. Although more than 99.99% of all hydrocarbons transported by pipeline are delivered safely, it is an inevitable truth: on occasion, some pipelines leak. When that event happens, having followed regulations isn't going to keep the cleanup bill from being astronomical — but having employed Satelytics will.

Over the last 20 years, nearly 6,000 significant pipeline incidents have been reported to the Pipeline and Hazardous Materials Safety Administration (PHMSA), resulting in over $10 billion in costs. Included in these costs are repairs and remediation expenses, regulatory fines, and legal settlements. NOT included are other financial consequences, such as loss of revenue from leaked product and increased insurance premiums.

In February, PHMSA estimated that a large, nationally known pipeline company will face upwards of $25 million in costs for a leak that happened last year on the east coast of the United States. This was one of the largest pipeline leaks in US history. PHMSA also calculated a commodity loss of $1.5 million, an approximation based on the pipeline company's last estimation of 1.2 million gallons leaked.

Adding to the cleanup bill, this pipeline company has purchased at least three homes and other properties near the leak site to simplify remediation and minimize the noise and disruption residents experience — an estimated $900,000 in additional costs. The leak itself has strained relationships between the pipeline and the local community and the lengthy remediation process will continue to strain relations. Most leaks are front and center in the public eye, which presents yet another negative consequence.

Complying with state and federal regulations isn't going to stop leaks from happening but employing Satelytics' geospatial analytics can help prevent and minimize leak costs.

Satelytics detects leaks with over 98% accuracy and can find leaks that are small enough to be missed by flyovers and other forms of human inspection, lowering potential product and revenue losses, as well as remediation costs. Your organization will no longer be viewed as a "big bad polluter." Instead, you will be viewed in a more positive light: as a proactive organization that is getting ahead of increasing regulations. And when a leak does occur, Satelytics will be there to help you manage and document the remediation process.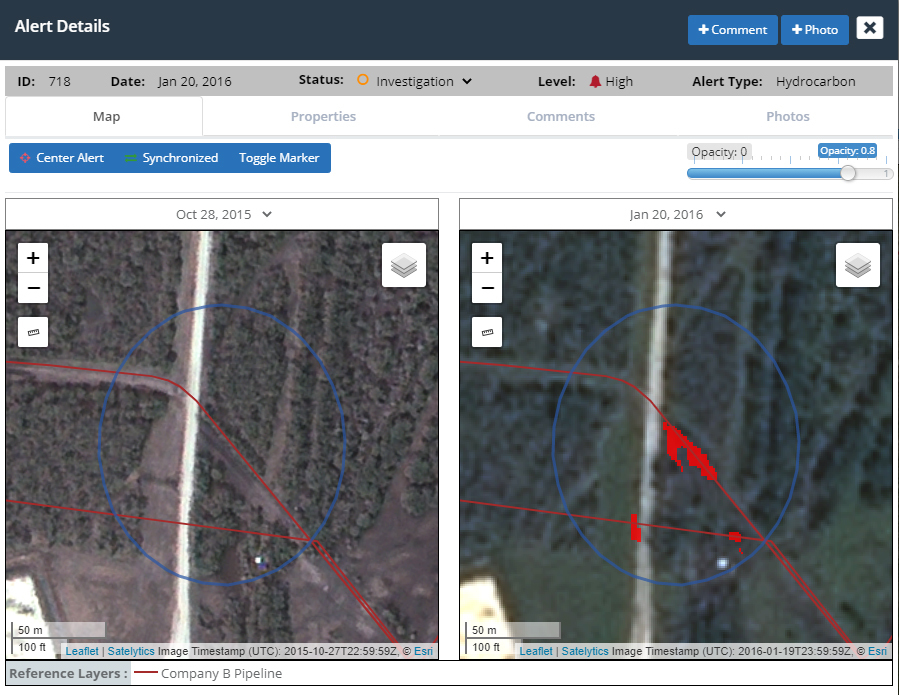 Interested in our newsletter?