• General
E Unum Pluribus... From One Data Set, Many Solutions
You can't put a price on protecting employees and assets, but Satelytics understands you have a budget. Solve this problem without making compromises.
Précis
Problem: Having to do more with less.

Solution: Satelytics serves all your teams.

Benefit: Share cost and benefits across teams.

At Satelytics, we're attuned to your business challenges and needs. You have regulations with which to comply, budget limits, and performance goals you wish to surpass. In the current economic climate, many are being forced to do more with less. We're here to make business easier and ensure things run smoothly. Harness the power of Satelytics to exceed your performance goals, pass regulatory tests, and hit your budget marker by looking beyond your own team's needs. You'll be a corporate hero!

We have previously touted the benefit of Satelytics being data agnostic, meaning we can collect data and imagery from any number of platforms and sources. But perhaps more importantly, we can simultaneously analyze that data to provide solutions to a large number of operational and business challenges your organization faces.

Your specific business unit is likely only concerned with a subset of these problems. How do you justify the purchase of a superior solution?

Satelytics' recommendation is to share the cost burden of our services with other teams within your company, thus benefiting the entire company. Your operations team may be looking only at a single solution to a leak problem, but what about your risk management team, Environmental Health and Safety team, and right-of-way management team? All of these teams within your organization are facing the same seemingly uphill battle of doing the job well, implementing preventative measures, and staying within a limited budget. The problem isn't the size of your budget — it's how you spend it and how you pull together to give your company the upper hand.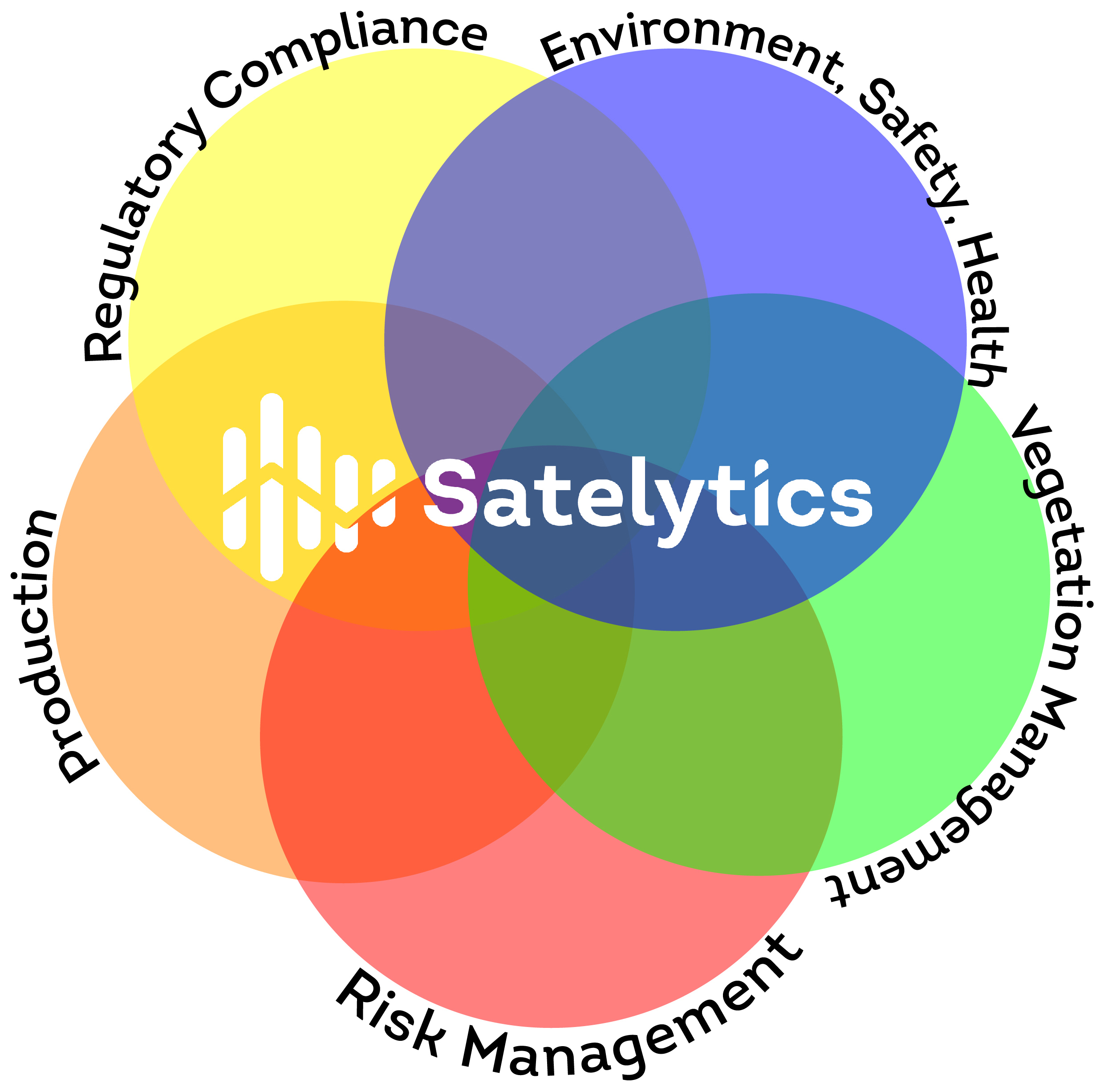 If you have multiple teams sharing the cost of Satelytics' services, suddenly the question isn't about budgets — it's about how multiple teams can take full advantage of all that our suite of algorithms has to offer, while each paying a fraction of the invoice.

With Satelytics, you have access to a multitude of services:

Additionally, employing Satelytics' analytical capabilities opens doors for easily-overlooked cost-savings, such as reduced insurance premiums and increased insurability. These benefits extend to enhance your organization's public image as well. PR won't have to scramble to spin stories when the next leak happens. Instead, they'll be busy writing press releases like this one from bp about the strides your organization is making toward protecting the environment.

Satelytics is a cloud-based geospatial analytics software suite. Multispectral and hyperspectral imagery is gathered from satellites, UAV, planes, stratospheric balloons, and fixed cameras, and is analyzed to provide both alerts and qualitative results for our customers. Data can be gathered daily, and results can be sent to customers within hours. This includes the specific problem, location, magnitude, and even qualitative information, which minimizes cost, impact, and operational disruption for our clients.

For more information, contact
Jay Almlie
(o) (419) 728-0060 ext.120
(c) (701) 330-1409
Interested in our newsletter?